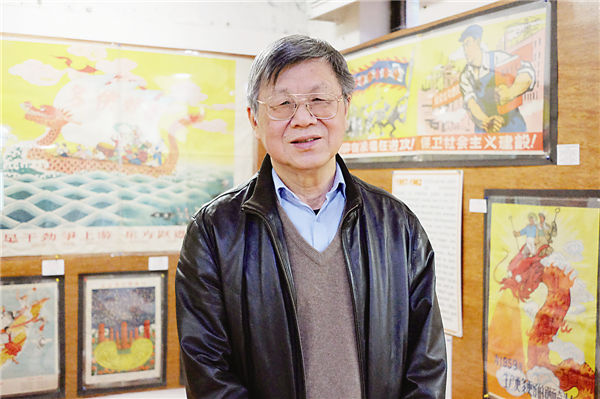 Yang Peiming's museum of propaganda posters has become a popular tourist attraction. Photo by Wu Ni/Shanghai Star 
They were created to convey the government's message of the day, but propaganda posters were often also remarkable works of art. Wu Ni meets a man whose collection of 20th century political art is drawing visitors from all around the world.
It was out of pure interest when Yang Peiming started to collect propaganda posters in 1995. Now, with more than 11,000 pieces, his private collection of Chinese revolutionary art is acclaimed as unique in China and his secluded basement museum is ranked the sixth best museum in the country by leading travel website TripAdvisor.
Occupying about 400 square meters in the basement of a residential building in Huashan road, Yang's museum exhibits propaganda posters from the 1940s to the 1990s, when posters were a widespread art to convey political ideas and mobilize the masses, despite their often simplistic messages.
Yang says these posters may not be worth a lot of money but they have great historical value.
"A lot of art works were created in the 20th century but many were destroyed, especially in the 'cultural revolution' (1966-76), when everyone was scared to keep printed works. These posters are witness to, and a reflection of, our turbulent modern history."
But Yang is cautious in reviewing that history—he would rather discuss the posters' aesthetic merits. "Only talented and established artists were assigned to the honorable task of creating propaganda posters, so they are of artistic value."
Born in Shanghai in 1945, Yang experienced the periods depicted in the posters. When he graduated from East China Normal University in 1966, he was assigned to a remote county in Sichuan province, answering to Chairman Mao Zedong's call for the youth to be re-educated by farmers.