Small but intimate with good service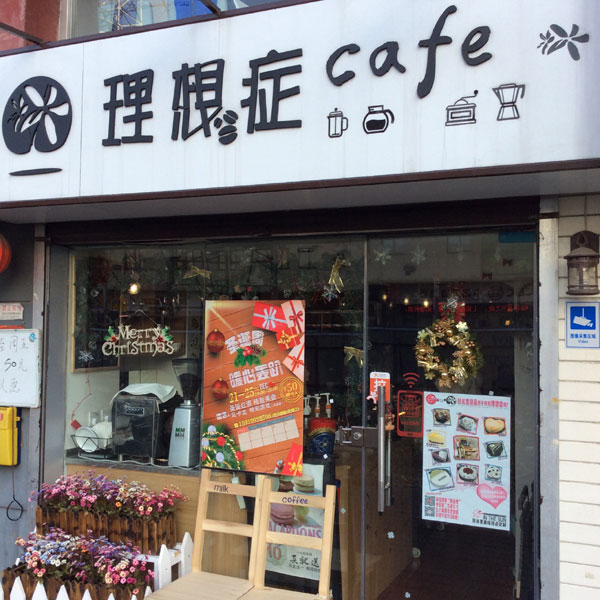 Idealism Cafe ranks fourth on the list of the "most popular tea break sites" in Beijing on Dianping.com. [Photo by Yang Feiyue/China Daily]
At first I am a little let down by the small space of Idealism Cafe, which ranked fourth on the list of the "most popular tea break sites" in Beijing on Dianping.com, a Chinese website that allows people to comment on food and dining services.
The cafe is no more than 30 square meters and can accommodate 15 people at the most. A stray cat adopted by the shopkeepers purrs on a cozy cushion. The seemingly casual decoration and garden-variety menu appear to work against the popularity of the cafe, when I go to find out what's behind the online buzz about the shop.
"We Serve You with the Finest Coffee", the shop's motto on the back wall, jumps out at you when you enter the cafe.
The shop boasts hand-drip coffee-hot water is poured manually into a filter filled with ground coffee instead of being pumped through a machine. The menu features a single kind of coffee bean from several different countries, including Kenya, Colombia and Guatemala. I enjoyed the hand-drip coffee from Guatemala, which has a delightfully light texture and a surprising fruity aroma that makes it taste somewhat like tea. (The Kenya coffee is too strong for my taste.)
"The world is coming back to savoring the original taste of coffee beans produced in different countries, instead of roasting them indifferently and mixing them together," says Li Jingwen, one of Idealism Cafe's three owners, all of whom were born in the 90s.
Conventional coffees, including latte, cappuccino, mocha and espresso, are available. One of the special treats offered by the cafe is a do-it-yourself coffee-making experience. The shopkeepers will teach customers how to make a cup of coffee to their individual tastes, and use milk foam to draw flowers on the coffee surface.
Basic cocktails, such as mojitos, margaritas and tequila sunrises, are offered during evening hours.