Chinese patissier wins gold in world cake competition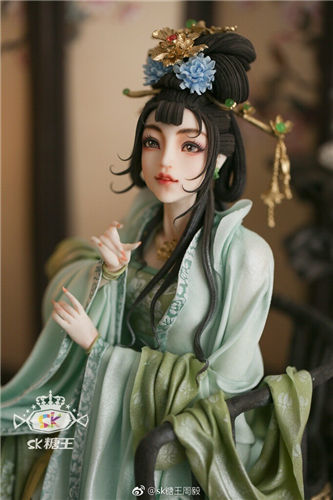 The prize-winning fondant cake Wu Zetian created by Zhou Yi for the UK's Cake International competition, Nov 4, 2017. [Photo/Sina Weibo account of Zhou Yi]
A Chinese style fondant cake created by patissier Zhou Yi recently won a big round of applause as well as the First International Best prize at Cake International, the world's largest cake competition held in the UK.
It portrays young Wu Zetian, the only officially recognized empress regnant throughout Chinese history, sitting in front of a folding screen surrounded by exquisite interior designs.
"I originally wanted to create a Chinese emperor figure, then I thought adding some feminine quality to this image might be great," Zhou said. "That's how I came up with the Wu Zetian idea."
The features of the character are so lifelike one can actually count her eyelashes. All the intricate parts, including the incense burner, palace lantern and picture scrolls, are handmade and edible.
According to Zhou, implementing a design with sugar and flour is a lengthy process of trial and error.
"Some parts were remade eight times just because the result was not quite what I wanted," Zhou said. "You need to build every single component over and over again until you find the perfect fit."
Zhou learnt traditional Chinese techniques of food carving and dough modeling in his earlier years. After he became a patissier, he started to integrate Chinese food crafts with Western cake making.
"To create something new and fresh, that's what impressed the jury of Cake International," Zhou said.
He hopes more young people in China will learn about this exciting vocation through him. "Let people know more about China, and China the world."