Superheroes triumph at People's Choice awards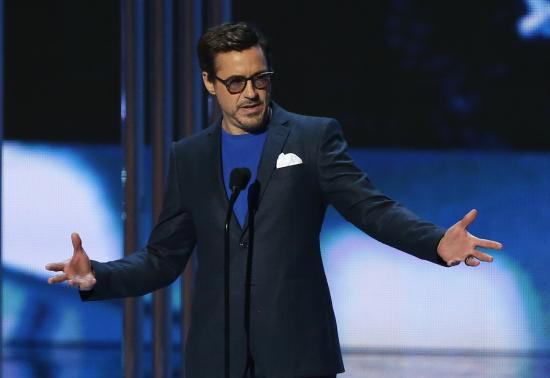 Robert Downey Jr. accepts the award for favorite movie actor during the 2015 People's Choice Awards in Los Angeles, California January 7, 2015. [Photo/Agencies]
The people have spoken and superheroes continue to rule the movie pack, as Captain America, Iron Man and Batman were among the top winners at the People's Choice awards on Wednesday.
"Iron Man" and "Avengers" star Robert Downey Jr. was named favorite movie actor for the fourth year in a row, and favorite dramatic actor.
"I want to eat you up and you're never going anywhere," Downey said, quoting his toddler son.
Downey's fellow Avenger, "Captain America" star Chris Evans won favorite action movie actor, and said "I don't win stuff so this is kind of cool," as he accepted the crystal statuette.
Amy Adams awarded her "Batman vs. Superman" costar Ben Affleck with the favorite humanitarian award, praising his work in providing aid and trying to change policy to help improve the lives of the people of Eastern Congo.
"I've been called a lot of things in my life but I'm not sure if humanitarian is ever one of them," Affleck said.
"The one way to combat the sad things we see, the terrible things we see, is to bring a little bit of kindness into the world," he added, dedicating the award to his Eastern Congo Initiative.