Warrior re-enters market fray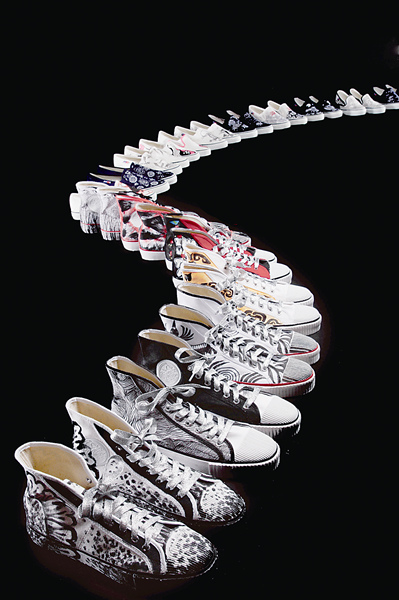 Classic Warrior styles are still best-sellers while newer models feature hand-painted designs. Photo provided to Shanghai Star
It was the champion of sports shoes, sadly allowed to languish in the bargain bins for a while. Now it plans an energetic comeback and Wang Ying laces up to get the story.
Warrior, a well-known brand of athletic shoes dating back to 1927, is trying to restore its glory in the marketplace.
For years, the sneaker brand has been unfamiliar to young consumers and only worn as "work shoes" by the lower classes.
The footwear has languished in the shadows until recently, and is now enjoying a carpet ride to popularity as nostalgia starts to sweep the nation, making people pick up what they used to eat, wear and use, from organic vegetables to milk candy.
Gui Chenggang, Warrior's executive director, says he was inspired and encouraged by actor Orlando Bloom, who wore a pair of Warrior shoes while filming New York, I Love You in 2008.
Sniffing out a business opportunity in the heated discussion about the shoes, Gui decided to develop more new products to attract the younger generation.
It was the right move, at the right time.
"During the 2008 Beijing Olympics, foreign leaders were visiting our stores to buy Warrior shoes, and the single-month revenue in the store on the Wangfujing shopping street equaled that of the average annual revenue," Gui recalls.
After combining the retro classic with a new trend to appeal to the young demographic, Warrior saw its annual revenue expand quickly, tripling from about 200 million yuan ($32 million) in 2010 to more than 600 million yuan in 2013.
"For 2014, our target is to achieve 750 million yuan," Gui adds.