Back to basics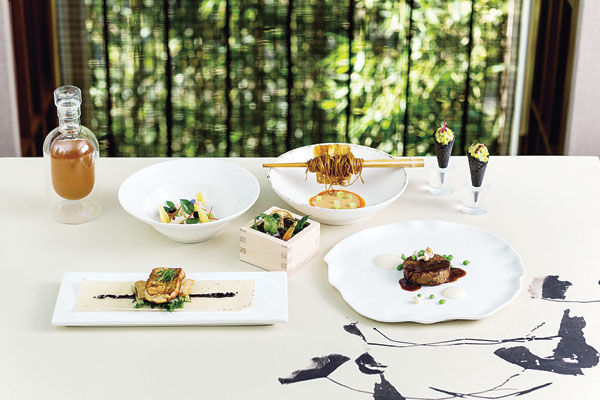 VEGO: Fu and Hui rejects the concept of fake meat, and instead lets vegetables take a centerstage. [Photo provided to Shanghai Star]
Vegetarian food in China is, bizarrely, dominated by fake meat. But as Xu Junqian discovers, sometimes a mushroom is best when it is just a mushroom.
Before chef Tony Lu launched his restaurant Fu and Hui, meaning blessing and wisdom in Mandarin, you would be hard pressed to find a mushroom that looked like a mushroom in a vegetarian Chinese restaurant. Mushroom is one of those "flexible" ingredients, alongside potato and dried bean curd, that can be made into faux meat. It can be chopped, sliced, and re-shaped to resemble fish, meatballs, and squid. It is an essential ingredient in the branch of Chinese vegetarian cuisine that dabbles in faux meat and fish.
"It's (faux meat and fish) so deeply rooted here that when people talk about vegetarian food, the images of vivid mock meat automatically pop out. It's a trick to get non-vegetarians into the restaurant," says Lu, 30, a Shanghai native. Lu helms eight restaurants. Fu and Hui, almost a year old, is the only vegetarian restaurant.
"I want to offer an alternative, in which all the vegetarian ingredients don't have to 'pretend' to be meat and fish and can still taste good," he says. As one of the most respected chefs in Shanghai, Lu admitted it's also a challenge, if not a risk, he "designed for himself".
The result is a table of the most honest and perhaps "correct" vegetarian food I have eaten. And it's finger-licking good. If I was fed this sort of vegetarian food, I wouldn't give fish and meat a second thought.