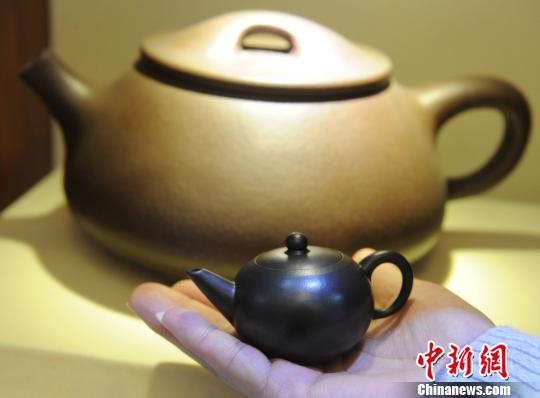 A zisha teapot made by a master, Wang Yinchu, is only 3cm in diameter. [Photo/ chinanews.com]
An exhibition of zisha teapots created by hundreds of Chinese masters was held at a purple clay art museum in Fuzhou city, Fujian province, on Jan 7, 2015. It features about 300 zisha teapots from Ming Dynasty to contemporary age, showing the changes of Zisha wares in history.
According to the sponsor, Fujian province is the birthplace of Chinese tea culture with a history of more than 1,000 years. The Zisha teapot, which is the key point of tea culture, has been exported through Fujian port to Japan, Malaysia, Singapore and other Southeast Asia countries since the late Qing Dynasty. Therefore, the zisha art is booming in Minnan area and many master collectors appeared there.
Moreover, a series of lectures about zisha arts will be held by specialists from the Taipei Palace Museum, Academy of Arts & Design of Tsinghua University and Zisha institutes in Fujian province in 2015.