Dining in style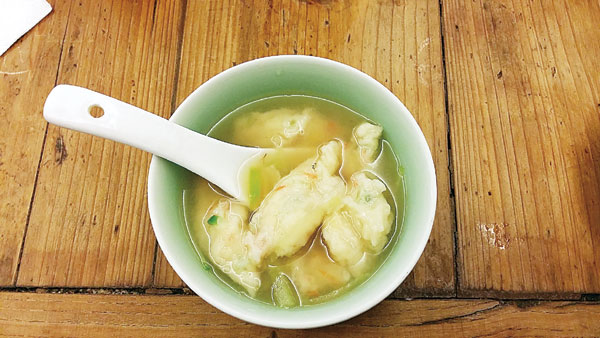 Doughball soup [Photo by Xu Xiaomin/Shanghai Star]
Its elegant dining room drew Xu Xiaomin in,but she stayed for the simple, and delicious, food at this vegetarian restaurant with a Buddhist philosophy.
Located on one of the city's most beautiful and historical streets, Xinhua Road, Wu Guan Tang draws me in with its elegant interior design. Decorated in the style of a refined Chinese traditional home, the restaurant has a simple yet elegant color palette like an old photo, with old wooden tables, chairs and even hand written menus, though the handwriting, to me, could be improved to better echo the elegant environment.
Wu Guan Tang, is actually the name of monk's dining place in buddhist temples. Wu Guan, or five reflections, reminds Buddhists to think about their moral achievements before eating. The restaurant insists on respecting the original taste of the vegetable, and does not do certain cooking methods — such as deep frying.
The signature dish is the baked potato (20 yuan). Potatoes cut into slim pieces are simply cooked in a box with salt and I also smell a kind of cheese (the restaurant includes egg and dairy products in their food), the dish is a must-have and unforgettable. The potato is very silky and smooth and will melt in the mouth in a second. The portion is very small, if you have more than four diners order two dishes.
The bag of five fortunes, wu fu bu dai, 35 yuan, features assorted vegetables such as carrots and beans wrapped in "bags" made of bean curd skin. The dish is steamed, and it is a good example of how to keep the original taste of the ingredients. It tastes a little bit salty and you can smell the hint of fragrance of the bean curd and vegetables inside.
My favorite dish is a seasonal one, a doughball and green radish soup. Doughball or mian ge da was a common dish eaten by local families when food resources were not as abundant as they are today. In winter, having a bowl of hot soup with very chewy doughballs and very fresh pieces of green raddish, is a wonderful dining experience and is a very pleasant way to end a light and healthy meal.
IF YOU GO
Address: 349 Xinhua Road, Changning district 
Tel: 021-6281-3695 Other popular vegetarian restaurants in the city
Ji Xiang Cao
Address: F2, 428, Madang Road
Tel: 021-6373-0288
Da Shu Wu Jie
Address: 392 Tianping Road, Xuhui district 
Tel: 021-3469-2857
Godly  Address: 445 Nanjing Road West, Huangpu district
Tel: 021-6327-0218