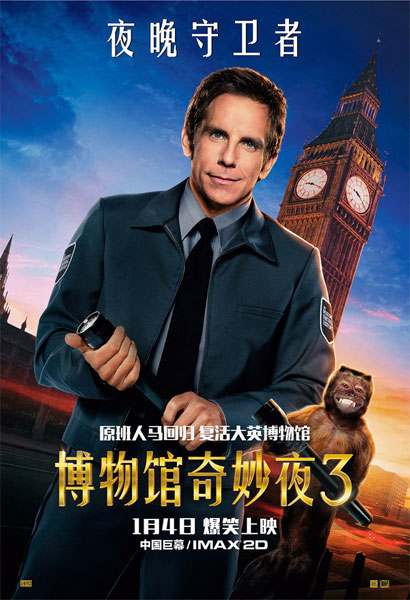 Chinese poster for Night at the Museum: Secret of the Tomb. [Photo provided to China Daily]
Hollywood' first mainland release in 2015, Night at the Museum: Secret of the Tomb, may become a hit with Chinese fans. Xu Fan reports.
It may have been the fantasy of many Chinese fans to hang out with the human and animal characters from the Hollywood blockbuster Night at the Museum series, and the occasion came just as last year was ending.
First released in 2006, the movie is based on a children's book by the same name, and tells the story of a night watchman's experiences at New York City's American Museum of Natural History.
The producers of the third installment, Night at the Museum: Secret of the Tomb (2014), held an exhibition tour on Dec 30 at the Beijing Museum of Natural History, where nearly 1,000 people turned up despite the cold. The visitors, mostly teenagers, were heard screaming in excitement whenever they bumped into models dressed as lead character Larry Daley or others such as the Egyptian pharaoh Ahkmenrah and Sir Lancelot.
Dozens of dinosaurs fashioned after those shown in the movies, craned their necks and bared their teeth to eye-popping responses from audiences in the museum's dinosaur park, filled with dramatic lighting. The fans' only disappointment was that people who played the human roles weren't the real actors and actresses from the series.
On Jan 4, Night at the Museum: Secret of the Tomb, also became the first Hollywood movie to open for general screening on the mainland this year. It is expected to run for around a month.
The 108-minute 20th Century Fox production topped the Hong Kong box office last week, grossing 32.2 million Hong Kong dollars ($4.15 million) from Dec 11 to Dec 28, according to local media reports. Douban, a major Chinese movie review website, gave the adventure comedy 7.1 out of 10 points.