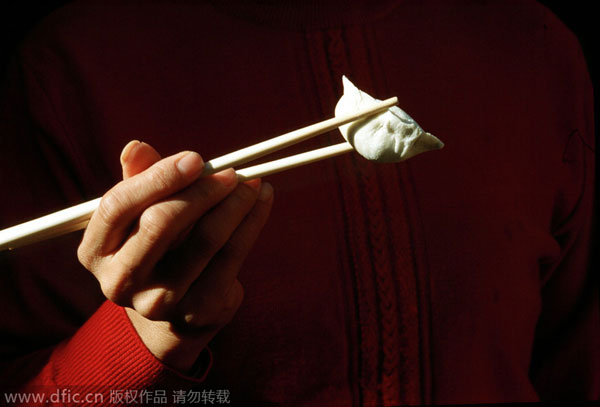 [Photo/IC]
Chopsticks, or Kuanzi, have enjoyed more than 3,000 years of history in China and have deeply influenced Chinese life in terms of etiquette, cuisine and living philosophy. The culture of chopsticks is going to apply to become a Shanghai intangible cultural heritage this year, according to the Shanghai Chopsticks Culture Promotion Association.
"Chopsticks, a unique tool for meals and a special invention by the Chinese, have been threatened with losing their historical and cultural luster because of long-time oblivion in the heritage protection field," said Xu Hualong, head of the association.
He cited Japan as a comparison. "They value the culture of chopsticks so much that they not only have special study organizations for it but also have made every Aug 4 the Chopsticks Festival."
"There is a lot to be done in protecting and promoting this culture," he added.
Chopsticks are so frequently used in Chinese daily life that they have become more than a kind of tableware and have fostered a set of etiquette and customs of their own, according to Lan Xiang, curator of Shanghai Chopsticks Museum.
"Chopsticks appeared more than 3,000 years ago. Due to their lightness and convenience, chopsticks were introduced to our neighboring countries, such as Korea, Japan, and Vietnam, more than 1,000 years ago. At least 1,800 million people use chopsticks nowadays," said Cai Fengming, deputy secretary general of East Asian Studies Center of Shanghai Academy of Social Sciences.
"Their culture is so prominent in east Asia that some scholars even refer to the East Asia Sphere as the chopsticks cultural sphere. To look at their influences from a new perspective may provide an innovative angle for understanding ourselves," Cai said.