Fashion companies perform better than big industries in Italy: study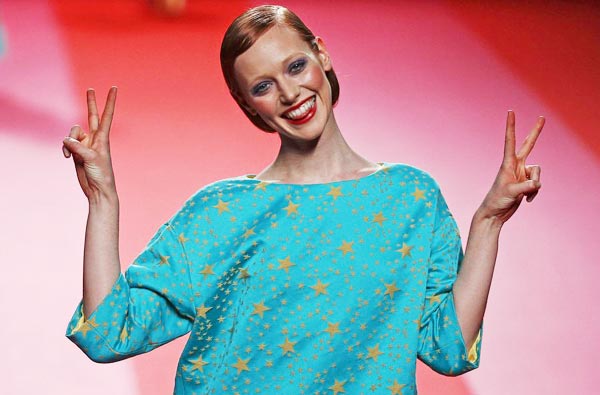 A model gestures while presenting a creation from Agatha Ruiz de la Prada's Fall/Winter 2015 collection during the Mercedes-Benz Fashion Week in Madrid February 10, 2015. [Photo/Agencies]
Italy's big fashion companies performed better than large-scale industries' average in 2013, a study presented here on Monday showed.
According to Mediobanca, a leading Italian investment bank, large-scale industry turnover dropped by 1.9 percent in 2013 compared to a 1.4-percent growth for 135 best performing fashion companies.
Ten major firms in the fashion sector achieved a 4.4-percent growth, Mediobanca found. Prada was placed first with 3.6 billion euros (about $4.1 billion) of turnover, followed by Armani with 2.2 billion euros in sales.
D&G, Ferragamo, Max Mara, Miroglio, OTB, Tod's, Valentino and Zegna were also in the top-10 group.
Moreover, the fashion giants showed they were much more capital-rich compared to large-scale industries.
In 2013, many firms had more cash equivalents than financial debts. For the 10 major brands, cash equivalents were as much as four times bigger than their financial debts, Mediobanca said.
This "cash treasure" represents a "powerful engine of wealth" which can protect big fashion companies from economic crises and allow them to carry out acquisitions, according to the study.
Related:
With eye on Oscars, Tom Ford shows latest collection in Hollywood