NYC fashion exhibition to show East-West chic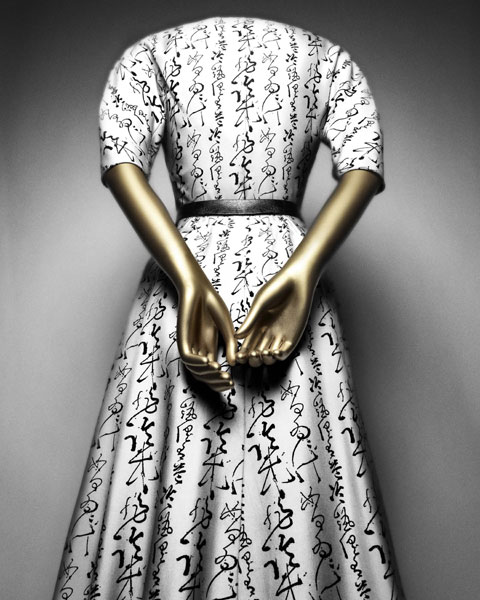 Quiproquo cocktail dress designed by Christian Dior for House of Dior in 1951.[Photo provided to China Daily]
An imminent exhibition in New York reflects the way Chinese style has been embraced and embellished in Western fashion, Chen Jie reports.
Ever since the silk trade between China and the Roman Empire blossomed in the late first and early second centuries, China has been a rich source of inspiration for the West. This year, The Metropolitan Museum of Art in New York will present an exhibition called China: Through the Looking Glass, to explore how China has fueled Western fashion's imagination for centuries, resulting in highly creative adaptations of cultural realities and mythologies.
Presented at the Museum's Chinese Galleries and the Anna Wintour Costume Center from May 7 to Aug 16, the show will feature more than 130 examples of haute couture and ready-to-wear alongside masterpieces of Chinese costumes, paintings, porcelains, and other art, as well as film clips.
In early January, a few of the exhibition pieces were brought for display at The Palace Museum in Beijing by the masterminds behind the show, including Thomas P. Campbell, CEO and director of the Met; Andrew Bolton, curator of the exhibition; Anna Wintour, editor-in-chief of the US edition of Vogue; and Hong Kong film director Wong Kar Wai, who will serve as the artistic director of the exhibition.
There are an Yves Saint Laurent gown (by Tom Ford, 2004) inspired by the dragon robe worn by Pu Yi (1906-1967), the last Chinese emperor, for his investiture in 1908; a blue-and-white Chanel beaded gown by Karl Lagerfeld (1984); and a Roberto Cavalli gown (2005) with patterns reflecting Chinese export porcelains.
"A lot of Western designers are influenced, intrigued and inspired by Chinese culture and images of China. From the exhibition, you can see how designers celebrate the rich history of Chinese culture and arts," Wintour tells China Daily in Beijing.
"For people of all ages, young, middle-aged and old, it is equally fascinating. Fashion really does reflect a moment, reflect history, a certain atmosphere, a fantasy, and touches every one," she adds.
The exhibition focuses on the period from the last decades of the 17th century, when the influence of Chinese-themed imagery or "Chinoiserie" was at its height, to the present, as China continues to enchant and enthrall the most creative minds in fashion.
"Iconic Chinese objects will be presented in direct juxtaposition with iconic Western fashions that draw upon Chinese aesthetic traditions," says Bolton, the curator.