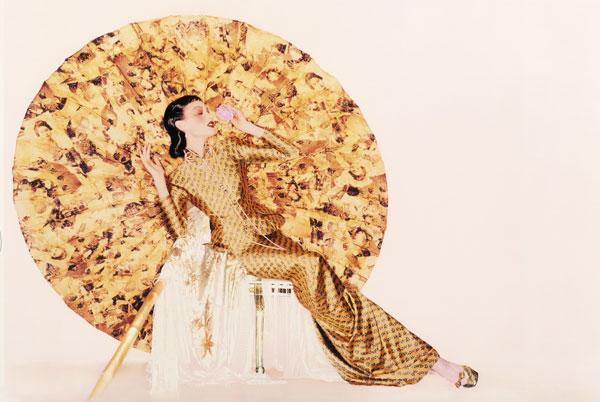 Design by John Galliano for Dior in 1997.[Photo provided to China Daily]
He explains that the exhibition is divided into two series. The first, "From Emperor to Citizen", is taken from the autobiography of Emperor Pu Yi. This series will span three periods of Chinese history: the Qing dynasty (1644-1911), the Republic of China (1912-1949) and New China.
"Usually, when designers are inspired by China's long and rich history, they invariably gravitate toward these three epochs. In particular, they're drawn to the dominant fashions that prevailed during these times: the changshan, the qipao and the zhongshan suit (tunic suit). For designers, they serve as a kind of sartorial shorthand for China and the shifting social and political identities of its people.
"These three types of garments, in turn, tell the story of the gradual introduction of Western tailoring techniques within Chinese dressmaking traditions," says Bolton.
The second theme is "Empire of Signs", taken from Roland Barthes' seminal book on semiotics. Like Barthes' meditations, this part will revolve around various enigmatic signifiers that have long engaged the Western imagination such as jade, lacquer and, in particular, porcelain.
Designers featured in the exhibition will include most of fashion's biggest luminaries: Giorgio Armani, Cristobal Balenciaga, Roberto Cavalli, Coco Chanel, Christian Dior, Domenico Dolce and Stefano Gabbana, Tom Ford, John Galliano, Jean Paul Gaultier, Valentino Garavani, Marc Jacobs, Mary Katrantzou, Karl Lagerfeld, Jeanne Lanvin, Ralph Lauren, Martin Margiela, Alexander McQueen, Yves Saint Laurent, Paul Smith, Anna Sui, Vivienne Tam, Vivienne Westwood and Jason Wu
There are also three Chinese designers: Ma Ke, Guo Pei and Laurence Xu.
"Laurence Xu is influenced by Tom Ford's dragon-robe dress, Tom Ford is influenced by Saint Laurent and Saint Laurent is inspired by something from Shanghai. That's how the East and West influence each other," Bolton says.
Ma Ke's fame has grown ever since she dressed first lady Peng Liyuan. "Ma Ke is very unique, singular, and sensitive," Bolton observes. "She is very early in terms of the engagement with recycled materials and the first Chinese designer accepted by Paris haute couture. She is deeply philosophical. She approaches her work from the Taoist and Buddhist perspective. Her design is very conceptual."