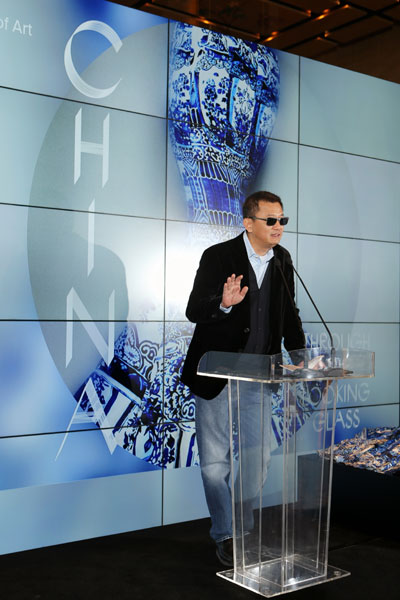 Wong Kar Wai, celebrated filmmaker, will serve as artistic director of the exhibition.[Photo provided to China Daily]
Often, film is the first lens through which Western designers encounter Chinese history, so the curator chooses film as the medium to explore the impact of movies in shaping Western perceptions of China's customs and traditions.
"Hovering between fact and fiction, reality and fantasy, Hollywood films such as Bertolucci's The Last Emperor may refer to actual events in Chinese history, but they cross the line into pure make-believe. The result, like the fashions they have inspired, is a 'virtual' China that conflates anachronistic allusions to disparate times and places.
"Contemporary Chinese filmmakers also have served as rich sources of inspiration for Western designers, most notably Chen Kaige's Farewell My Concubine, Zhang Yimou's Raise The Red Lantern, and Ang Lee's Crouching Tiger, Hidden Dragon," Bolton says.
He believes the film that has had the greatest influence on designers is Wong Kar Wai's In The Mood For Love, which features an array of exquisite qipao, including versions with Matisse-like watery floral patterns in muted tones.
That's why he invited Wong to be the artistic director of the exhibition.
"Wong has got an extraordinary eye. Even audiences who have no connection with China can still love Wong's movie," says Bolton.
Wong says he is glad that Chinese movies could inspire many talented Western designers. He explains that the translation of the title, China: Through the Looking Glass, is four Chinese characters, meaning "mirror, flower, water and moon", which reflects Chinese literature and aesthetics as well as fantasy, romance and charm.
"A man looking at himself in the mirror can only see himself. When the mirror becomes a window, he can see the outside world. I hope the exhibition is a window, through which visitors can appreciate Chinese culture and aesthetics up close," he says.