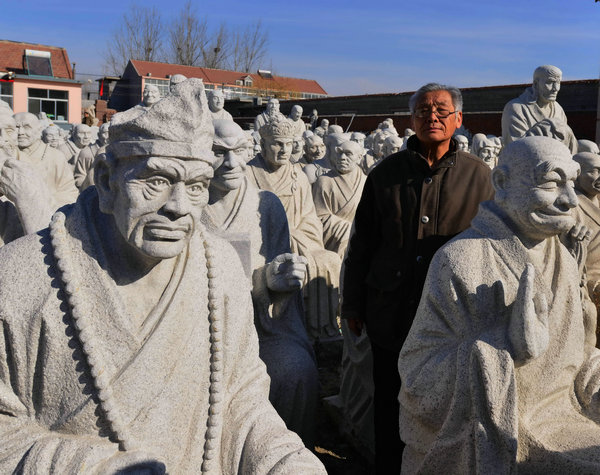 Chen Xiulin and his statues. [Photo by Ju Chuanjiang/ Asianewsphoto]
Chen Xiulin, when in his 20s, flew a military plane over areas where China had conducted its first nuclear missile test in 1966, to collect some air samples.
But back then he didn't realize that one day he would take a route that's rather different for a People's Liberation Army aviator - that of a sculptor.
The 78-year-old Weifang native, from eastern China's Shandong province, is now working day and night to finish a set of bronze sculptures for the 2015 Milan World Expo. His work at the event to be held in May will depict scenes from China's trade and cultural exchanges with other parts of the world along the ancient Silk Road.
His 170-meter-long sculpture, which comprises 23 statues, will be shipped to Italy in March and placed at the Sino-Italy Pavilion for display in Venice, a sub-venue for the exposition, according to Lu Yintao, the executive director for Chinese Art and Craft Association and an art adviser to the pavilion team.
Among Chen's other works invited to be showcased at the global fair are his stone statues of the 500 Arhats, disciples of the Buddha on advanced paths of enlightenment.
"Chen's portrait sculptures, especially the arhat statues, are perfectly proportioned and extremely vivid in facial expressions. Each one can rival world-famous works," says Lu, who introduced the former pilot's works to the expo organizing committee.
"The expo will be the best international stage to showcase Chinese culture. I hope my works can help people better know Chinese traditional culture," Chen says.