Jackie Chan gives son a new haircut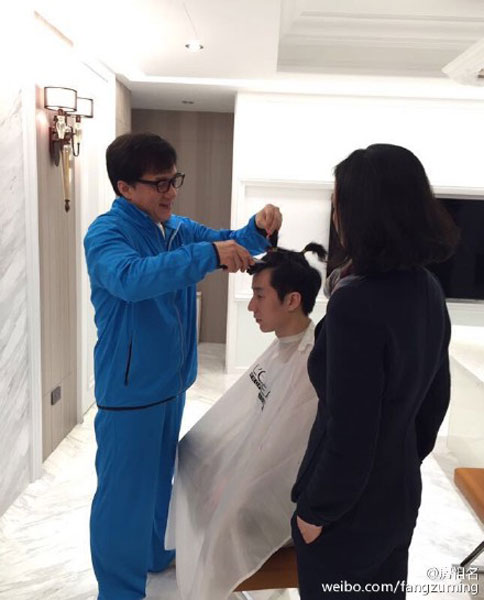 A photo posted on Sina Weibo of Jaycee Chan, son of actor Jackie Chan, features the father giving his son a haircut, Feb 24, 2015. [Photo/SinaWeibo]
The beginning of the year motivates people to move on, and it seems that Jaycee Chan, son of actor Jackie Chan, is ready to start over with his life and career after a six-month jail sentence on drug charges.
The 32-year-old posted two photos on his Sina Weibo yesterday, featuring Jackie Chan cutting his hair, with his mother looking on. It was the first micro blog item he posted after his arrest in August.
The caption attached to the photos says congxin kaishi, which literally means "start from the heart", and also sounds the same as "start from the beginning." The other photo features a close-up of his new haircut.
Chan made a public apology earlier this month on Feb 14 after he was released from jail, for allowing people to use marijuana in his apartment.
During the press conference, he said that there was "no reason, no excuse" for his behavior that led to his arrest in August alongside Taiwan actor Kai Ko.
Jaycee Chan's action also echoes a Chinese idiom, xiaofa mingzhi, or, "cut one's hair short to indicate his firm determination". The idiom comes from the tale of King Goujian of Yue during the Warring States Period (475-221 BC). After he lost the fight to King Fuchai of Wu, he cut his hair short, lived in a shabby hut, slept on brushwood and tasted gall to remind himself of the humiliation.
Chan's post has received positive feedback, with more than 358,000 likes, 43,000 reposts, and over 70,000 comments as of 10.30 am today. Most of the messages encourage Jaycee Chan to move on, and some complimented his father's haircutting skills.