Jackie Chan's son released from jail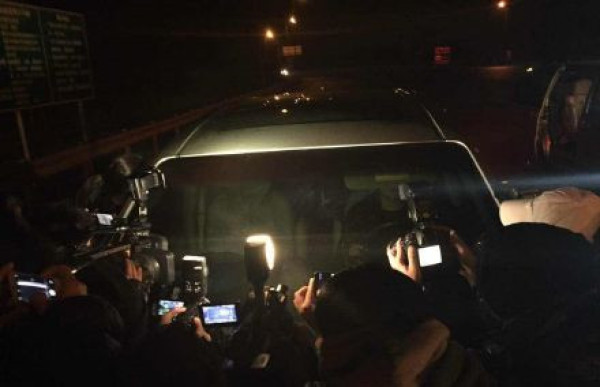 Journalists crowd the car carrying Hong Kong actor Jaycee Chan after he was released from prison in Beijing on Feb 13, 2015. [Photo from Internet]
Hong Kong actor Jaycee Chan, son of action superstar Jackie Chan, was released from prison in the early hour of Friday, according to Xinhua News Agency.
Two police cars accompanied the van he was in out of the Dongcheng District Police Station at midnight.
On Aug. 14, 2014, Beijing police arrested Jaycee and Taiwan movie star Ko Chen-tung, both tested positive for marijuana and admitted to having used the drug. Police discovered 117.7 grams of marijuana in a bedroom at Jaycee's house.
Ko was released after 14 days detention. Jaycee was sentenced to six months in prison and fined 2,000 yuan (US$326) for drug offenses by the Dongcheng District People's Court in Beijing on Jan. 9.
China has detained a string of celebrities on drug-related and prostitution charges. On Thursday, popular Chinese singer Yin Xiangjie was prosecuted in Beijing for possession of drugs.
Beijing police arrested 45-year-old Yin in a residential community in Chaoyang District in December and seized 13.93 grams of crystal methamphetamine and 1.02 grams of marijuana.
The Beijing Trade Association for Performances said in September it would not hire any stars involved in drug abuse or prostitution. Sixteen Chinese production companies also pledged not to hire stars involved in prostitution, drugs or gambling.