Zhang Mo gets six months, 5000 yuan fine for drug use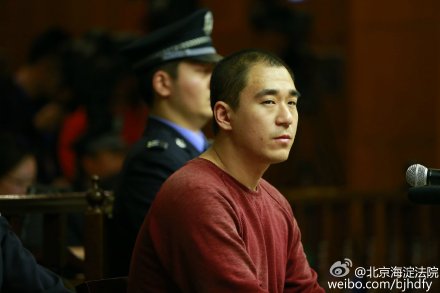 Zhang Mo, son of Zhang Guoli, a Chinese celebrity, stands trial at Haidian People's Court in Beijing, Jan 27, 2015. [Photo/Weibo.com]
Zhang Mo, the actor Zhang Guoli's son, has been sentenced to six months in prison and fined 5,000 yuan($800) for drug use and providing others with a venue for drug use, the People's court of Beijing Haidian District announced on Tuesday morning.
Zhang pleaded guilty to the charges.
Zhang Mo, actor and son of actor and director Zhang Guoli, made news headlines when police confirmed he was arrested for using drugs on July 29, following his 13 days' detainment over marijuana use in 2012 when police searched his home after receiving a tip.
Zhang Mo, born in 1982, followed in his father's footsteps to become an actor, starring in many films and TV dramas. Zhang Guoli is known widely for playing Emperor Qian Long, one of the longest ruling emperors of China's Qing Dynasty in a popular TV series.
China has a zero-tolerance policy on drugs. According to the Criminal Law, narcotics include, among other substances, opium, heroin, methamphetamine, morphine, cocaine and marijuana, and they are strictly banned. Anyone who trades in or consumes any of these drugs is punishable by law.