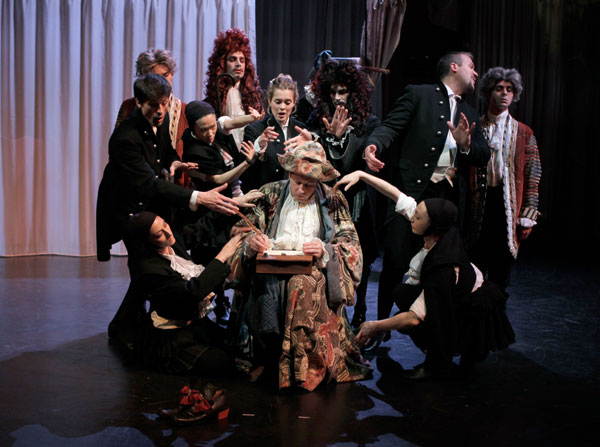 The Bourgeois Gentleman, a vibrant show adapted from French playwright Moliere's famous work, will be performed in Beijing during the 10th Croisements Festival.[Photo/China Daily]
China's top French cultural festival is planning to broaden it's reach in the hope it will reach a wider section of the Chinese public.
The recently revealed program of the 10th Croisements Festival boasts more than 100 events, covering 10 disciplines, including visual art, theater, and new media. It is to be staged in more than 20 cities across the Chinese mainland from April 10 to July 10. It is the largest French cultural festival outside of France and the largest foreign cultural festival in China.
The festival was founded in 2006, following the Franco-Chinese cultural exchange at the initiative of state leaders from both countries. Originally only held in a handful of major cities, today it is held across the country. Statics from the French embassy in Beijing show that more than 8 million people have participated in the festival.
The festival's curators say demand from Chinese audiences is strong.
"A few years ago, we decided to focus more on innovative programs, because we really need to give the festival added value," Anthony Chaumuzeau, counselor of cultural cooperation and activity at French embassy in Beijing, says.
"Chinese people know France for its history and cultural heritage, but France is not just the country of Louis XIV, Claude Monet, or 1960s New Wave cinema. We really want to surprise people. We have a shopping cart to select the artists and companies, and we do matchmaking with Chinese partners."