Animal reality show starts debate on animal rights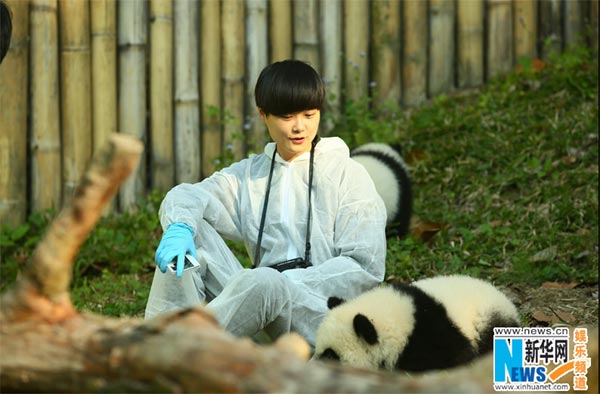 Chinese singer and actress Li Yuchun interacts with a panda during the reality show Wonderful Friends. [Photo/Xinhua]
China's first animal reality show has sparked debate over whether appearing on television puts zoo animals in distress.
The reality show, titled Wonderful Friends, features movie stars and pop singers taking on the responsibilities of animal keepers and vets at the zoo. It has become one of the most viewed weekend shows in China.
The debate over animal protection was fueled after the World Association of Zoos and Aquariums (WAZA), an international organization with 300 zoos and aquariums from 50 countries, requested an immediate discontinuation of the program on Tuesday.
WAZA made an open statement saying the program, filmed at China's largest zoo by circus company Chimelong in southern Guangdong province, places animals in "distressful and harmful situations, in order to create 'entertaining' story lines."
Six stars, including Li Yuchun, ambassador of WWF's worldwide movement Earth Hour for the China region, participated in a five-week "closed experience" at the zoo while filming the show.
During this time, participants acted as animal keepers under the guidance of professionals to take care of more than 20 animals, including koalas, chimpanzees, elephants, white whales, giraffes and giant pandas.