Scattering books on subway goes viral in big cities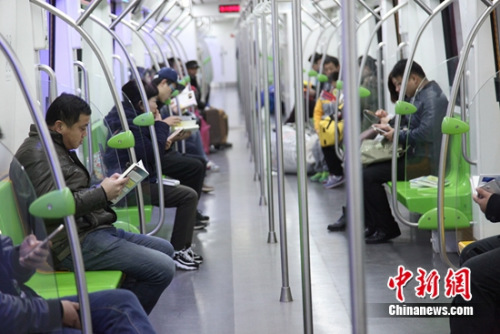 People read books scattered on the subway in the morning. [Photo/Chinanews.com]
Inspired by British actress and "book fairy" Emma Watson, the Scattering Book project, which advocates leaving books in public spaces for more people to read, is going viral nationwide.
Xinshixiang, an influential public account on WeChat launched a Scattering Book project on Tuesday in Beijing, Shanghai and Guangzhou, with 10,000 books left in the subways, airplanes and taxis for sharing. Celebrities such as Chen Luyu, Xu Jinglei and Huang Xiaoming participated in the event. They chose their favorite books and scattered them in the subway with messages inside.
Each book is marked with the Scattering Book project name and anyone can read the book freely and then pass it on in the city. There is a QR code inside the book and by scanning the code one can trace the book and see messages left by former readers.
Lu Jinbo, president of Guomai Culture and Media, believes that young people are becoming the main force of cultural consumption, with online reading groups springing up. In Lu's eyes, an event like Scattering Book aims to bring books to young people through stimulation of popular culture and promotes nationwide reading.
Guomai provided nearly 4,000 books for the project, including its best seller, No More than Skins, as well as classics like, Six Chapters of a Floating Life.
The project is also stirring heated debate. Some have their doubts, wondering if it is just a marketing campaign or whether it will really help people pick up a paper book again.
Is the Scattering Book project a marketing campaign?
Xinshixiang's post on the Scattering Book project quickly received more than 100,000 page views on WeChat and many netizens praised it and said they are willing to be involved. However, some say the project looks like a marketing campaign launched by Xinshixiang and related publishers.
According to Chinanews.com, Yang Yuancheng, one of the founders of Xinshixiang, replied that they want to encourage more people to share knowledge and beauty through sharing books and encourage more kindness between strangers. "According to our previous experience, some people will get involved and reap a harvest from the project," he said. He also acknowledged that the event was designed to bring more fame to his company.
A woman surnamed Wang, who is a typical subway commuter, said, "I did see several celebrities posting their photos of scattering books in the subway, but the books in their hands just seem like accessories and I even can't see the book names. The project looks fantastic, but still like a show, more or less."
Literary critic Bai Ye didn't regard the project as a marketing tactic, but more like propaganda. "The project can test the public's reading habits at some certain level, like which books people like to read and who is reading those books," Bai said.