Scattering books on subway goes viral in big cities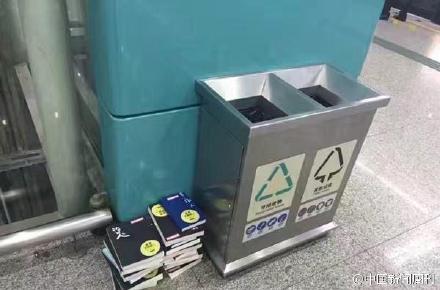 Some of the scattered books are piled near trashcans by subway cleaners. [Photo/Weibo.com]
Where the books have gone?
Some people claim they want to look for books to read on the subway after learning about the project, but they are nowhere to be found.
Then where are the books? Staff from Beijing subway replied that some books may have been taken away by passengers for further reading.
"When we were observing in the morning in the subway stations when the project just began, there were many people reading the scattered books and we took photos," one staffer said.
According to the photos shared by netizens online, some of the scattered books were ignored by passengers or cleared away by cleaners. "Will someone just throw the book in the dustbin after finishing reading?" "Waste collectors may flood into the subways," netizens jokingly said.
Related: Writer starts 'Books on the Chongqing Light Rail'