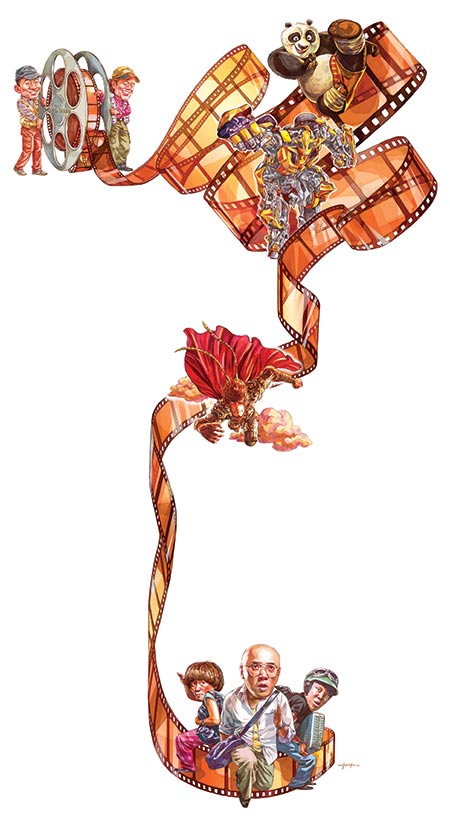 Li Min/China Daily
It is the golden age for China's movie business-but success depends on a slew of ever-changing parameters
'If China keeps adding 6,000 new screens each year, in five to eight years China's film industry will reach 150-200 billion yuan in box-office revenue," says Yu Dong, founder and president of Bona Pictures, one of the country's major film studios.
Yu made the forecast at this year's Beijing International Film Festival. Even though it grabbed headlines for a day, it did not create exciting ripples of discussion. Similar predictions from film moguls have been a staple in recent years. And they are dwarfed by the constant shattering of box-office records-those for a single release, a single day, a season or a year.
The takeoff of China's film industry, spectacular as it is, is by no means out of the blue. The engines have been revving for more than a decade. Roughly speaking, everything started from the beginning of the new century when Ang Lee's Crouching Tiger, Hidden Dragon, a surprise global hit, instilled a ray of hope in Chinese filmmakers, engendering a string of lavish costume epics that incorporated a heavy dose of martial arts.
For a decade-and-half in the last century, filmgoing as a collective experience almost died out in China. The old cinemas, with their multiple functions as meeting halls and performing arts venues, lost out decidedly to the rise of television, which came to China three decades later than to most developed countries. If you query a certain demographic, say those above the age of 50, you can easily find many who have not been inside a cinema for more than 30 years. And they wouldn't understand why you'd have to pay 50 yuan ($7.60) or more for a ticket. In their times, a ticket cost a few cents.
The buildup of modern multiplexes, mostly in conveniently located shopping malls, is at the heart of the current boom. Film-going for a typical Chinese, about the age of 21, is very different from his father's experience of yore. For several years, theatrical releases could attract only the young. It wasn't until last year when such runaway hits as Monster Hunt successfully brought in an audience of a wider age spectrum. It also spells doom for stories that deal with mature content.
The audience makeup also determines what kind of imports have better chances at winning in the ever important China market. While the Western press keeps its eyes on measures such as the quota system, the rules of the game are shifting faster than the pace of any scholarly study. The failure of the new Star Wars instalment to break into the 1-billion-yuan ($150 million) league, despite massive advertising and free publicity, is testament to the unique taste of China's moviegoers, with the self-derogatory "small-town youth" as the mainstay.
This constituency does not come with historical baggage, or historical enrichment for that matter. As much as half of the one-billion-yuan-plus hits are directorial debuts whereas veteran filmmakers including Zhang Yimou, Chen Kaige, Jiang Wen and Feng Xiaogang are playing catchup in box-office figures. This wave of internet-informed and internet-facilitated filmgoing is coming on strong and brutal.