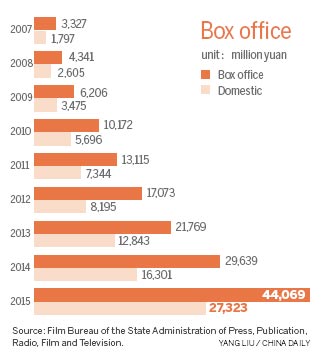 Yang Liu /China Daily
As it stands, Chinese moviegoers have very different expectations from imports and domestic fare. For imports, especially those from Hollywood, they want big spectacles with state-of-the-arts special effects. Franchises minted in the new century come with a built-in audience, but other than that, branding of stars or genres has to be built from the ground up.
Home-grown hits have to be deeply rooted in the cultural soil of the day. Comedic elements are de rigueur as any Chinese-language film with a box-office result of 1 billion yuan or above cannot do away with it. That has created a dichotomy of high-flying known quantities from Hollywood and modestly budgeted sleeper hits from unknown Chinese directors sharing the stratosphere of record-breaking superhits.
Foreign participation in Chinese products may take many forms, but the track record for co-productions has been sporadic at best. There has not been a single case of such an effort conquering all four quadrants that use both markets across the Pacific and both commercial and critical acclaim as yardsticks. The cultural divide seems too wide to bridge. What's touted as the solution is nothing but token appearances of marquee names in each other's products.
Hollywood franchises with Chinese cameos are not co-productions either technically or culturally. But Bona's Yu predicts that the trend will be reversed when China's market size grows several times what it is now and on-screen or off-screen talents flock to the Middle Kingdom for opportunities. "If the co-production is in the Chinese language, it will have China as the predominant market. If it's in English, the market will be global. We're already faced with such choices," says Yu.
In the past decade, Hollywood studios have made occasional forays into purely Chinese productions that target only the Chinese market, but the success rate is not encouraging. Now, Chinese companies are looking westward for similar investments, in projects and also in corporate entities. Unknown to most outsiders, more and more Hollywood heroes and superheroes would be vaulted into public sight with the help of Chinese money.
Chinese conglomerate Wanda's acquisition of US film studio Legendary Entertainment early this year has been the most visible case, but by no means the last. There will come a time, much sooner than expected, when mutual investments in each other's film projects will be so extensive that the cultural imprint of a story will have little to do with the nationality of those who bankroll it.
So far we're talking only about the theatrical market, or films as shown in movie theaters. Using a wider perspective, you'd find that the constellation surrounding this brightest star is undergoing rapid changes as well. China does not have a developed ancillary market for theatrical releases. Yet feature films customized for the online platform are projected to reach 2,200 in number and 1 billion yuan in revenue this year.
The change is happening now. There are more movies and more ways to watch them, including virtual-reality movies that are yet to go commercial. The terms "film" and "picture" will sound quaint when you think of their origins.