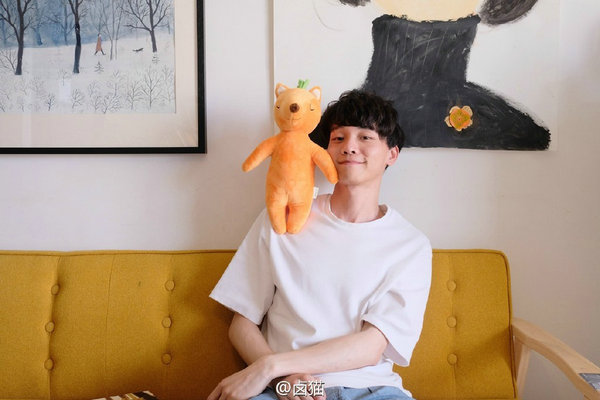 Lu Mao and his fox Feribo. [Photo/Sina Weibo]
Sometimes, when you are lonely and can't fall asleep at night, someone may warm you with his illustrations.
His followers on Weibo call him "my boyfriend", "my husband", or "an illustrator who can heal me".
He is Lu Mao, or Oamul Lu, a 28-year-old painter living in Xiamen in Fujian province. His picture books I Found a Star and Fox Feribo were published in 2012 and 2015. Both books have got scores of 8.3 and 8.4 out of 10 on Douban.com, a Chinese movie and books review website.
Paint with love and soft colors
"He is painting with love," a Weibo user "Ningsanger" said.
Animals, plants and people all look relaxed and comfortable in his illustrations. Sometimes the fox named Feribo falls in love with a rabbit, and sometimes people or animals have dinner together, enjoy tea, or just stay in the forest.
A Douban user "Yangyangyang" commented: "His pictures always warm my heart. When I am blue, I will read his books and then…I feel better."
In Lu Mao's illustrations, affection and love are soft and cute, just like a warm little bird with a fast beating heart.
"At first, painting is just my hobby. My previous job has nothing to do with it. Later I decided to be a full time illustrator, because I don't want to lose my passion for painting," Lu Mao said.
"To me, painting is a way to record my life. People may use words, videos to record their thoughts and lives. I use my pictures."
Lu Mao also applied many soft colors in his painting. Light green plants with large leaves, pale pink flowers in full bloom all found their way into his illustrated world.
"My favorite color is yellow. And I am really into pink recently," he smiled.
His painting for this April is light pink flowers, the color of cherry and peach blossoms in spring.
And in another of his recent illustrations, a man walks in an ocean of bright pink flowers. In a strong contrast, the pink and the yellow-brown mountains evoke the smell of summer heat.