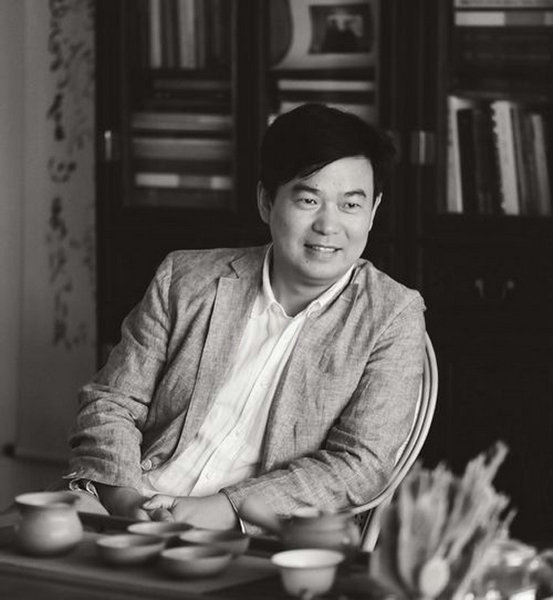 Xia Pengcheng is holding a solo show of calligraphy and ink paintings in Beijing.[Photo provided to China Daily]
Titled Time Speed, Xia Pengcheng's solo exhibition currently at Songzhuang village, an art district in Beijing's eastern suburbs, examines how people can achieve inner peace when living in a fast-paced environment.
The show at the Fine Art Equivalence gallery displays dozens of calligraphic scrolls and abstract oil paintings he has executed over the past year. It continues through May 30.
Xia is viewed by critics as one of the most promising Chinese artists, as he extends one hand to modernize Chinese ink traditions and another to localize Western brushwork.
Practicing calligraphy since he was 6, Xia is noted for handling the highly expressive kuang cao (wild cursive) style.
Like many of his generation who were interested in Western art, Xia studied oil painting at Beijing's Central Academy of Fine Arts in the late 1990s.
After graduation, he returned to calligraphy, which he wanted to explore further. He dropped oil painting at that time, because he didn't want the distraction when practicing calligraphy.
"Chinese calligraphy is such an abstract and pure form. One has to keep practicing until one can find the right rhythm of writing and further achieve a breakthrough," he says. "It may take a lifetime."
The Beijing-based artist in his 40s has been a student of eminent calligrapher Shen Peng since 2009.
"Calligraphy is something one needs to complete within a fixed period of time. Whether the written characters look good or bad, one has to accept it and start over on a different piece of paper," he says.
"What looks simple normally turns out to be something quite time-consuming."
His desire to paint was reignited early this year when he drove by a stack of bicycle tires on the way to pick up his daughter. The round shape of the tires fascinated him, bringing him a similar sense of rhythm and freedom as that of writing characters in varied styles. He thus started to create circles on the canvases.