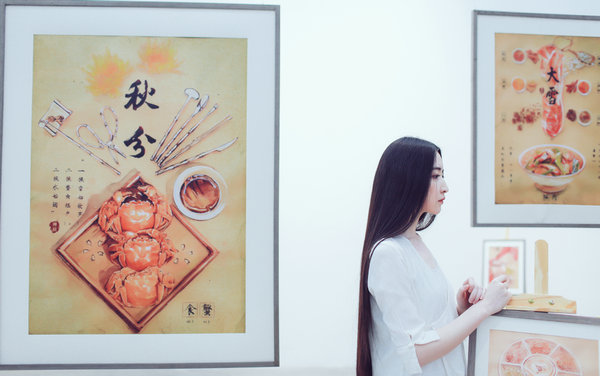 Li Xiaolin and her paintings of "24 Solar Terms and Chinese Delicacies" . [Photo provided to China Daily]
"I wish I could illustrate those beautiful stories in traditional Chinese culture in my paintings. And let more people know them," Li Xiaolin said.
As a popular young Chinese artist with a "high face value" on the internet, she has 151,084 followers on Sina Weibo.
She combined the customs during a solar term and the associated food and created a series of illustrations named "24 Solar Terms and Chinese Delicacies".
With their light brown backgrounds, her solar term series was redolent of ancient China.
And her small world made of flowers, food and beverages and descriptions in Chinese calligraphy captured the essence of a cultured life.
"I need to spend a lot of time on the study of Chinese festival and customs. Especially the special food on certain festivals, say, the starting day of some solar term," she said.
But there are many types of Chinese cuisine and the festival customs vary from place to place.
"It is a challenge to choose the most typical food for a solar term due to the differences. For example, on the starting day of the Winter Solstice, people in Northern China have dumplings, yet in the South, they have rice dumplings. Which one is more representative?" she smiled.
Not having received professional training in painting, Li can only try her best to picture her understanding of the customs.
"The trickiest thing is to present our old and traditional culture from a young and modern perspective. I want to be a bridge to connect young people and traditional culture. And what is the best way to be a bridge? This is me and our studio's endeavor," she said.
Li and her husband established their own studio named "Huilin" last year. They are trying to illustrate more things about traditional Chinese culture, including traditional wedding ceremonies, local delicacy recipes, and zodiac animals.
At present, she works on her series on local Chinese food, auspicious Chinese patterns and traditional Chinese jewelry.