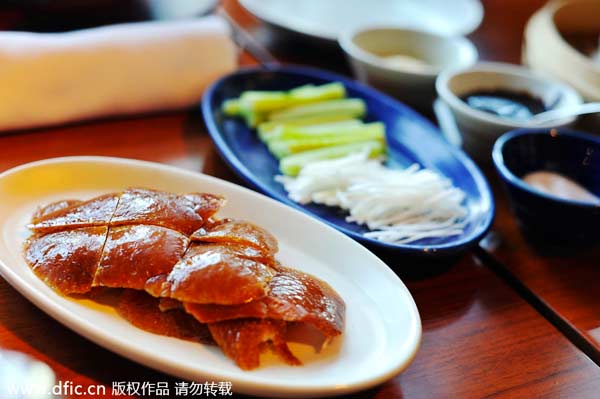 Peking duck. [Photo/IC]
Dozens of artists, entrepreneurs and government officials recently gathered at the Great Hall of the People in Beijing for the launching ceremony of the project of a series of short movies about China Time-honored Brands.
China Time-honored Brand is a title granted by the Ministry of Commerce to domestic brands with a long history and deep Chinese culture, and their products, techniques or services are outstanding. The brands are from various, fields such as food and culture. For example, Quanjude, a restaurant chain that sells Peking duck.
Some enterprises such as Rongbaozhai, a shop of calligraphy and Chinese painting, signed cooperation agreement in the event to express their support.
Speakers shared their opinion how to maintain time-honored brands. Actor Lei Kesheng said a real time-honored brand should have excellent quality and reasonable price, with proper operations.
Li Yanqiu, who is in charge of the project, said it's best to create artworks combined with the brands and short movies to promote China's tradition and culture.
Related:
Popular eatery's duck tastes flight online
Youku launches content drive amid digital war to woo viewers