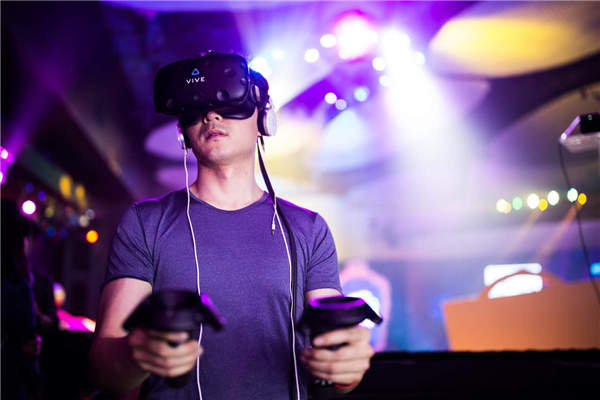 A visitor experiences VR at the event. Photos provided to China Daily
Virtual reality as a topic is often discussed at film events in China, of course, with an associated question: What should be broadcast via VR?
But with the country's leading online video operator Youku releasing its VR development plan in Shanghai on May 11, Chinese filmmakers may now have an answer.
A trailer of Black Fairy Tale, which stars A-list actor Huang Xiaoming, was also shown by Youku at the VR Wonderland on that day. The thriller is China's first short film totally based on VR technology and allows viewers to choose their own angles to watch it.
"VR has changed the way a story is told in films," says Victor Koo, Youku founder.
Storytelling used to have a beginning and an end, but VR now mixes personal experiences of viewers with the filmmaking process.
"The end of a story is no longer the same for everyone."
And, Youku is one among several pathfinders in China. Since the start of the year, many digital facility manufacturers have been promoting such products, too.
With Black Fairy Tale, Youku also launched a long-term investment support program for directors to focus on VR dramas.
"VR is a new trend," says Huang. "While we should take a rational step toward it, trying something new is also worthwhile."
Koo says it isn't realistic to make feature-length films fully using VR technology today-due to the high cost and the problem that viewers may feel giddy, but short films in the format can work.
Earlier this month, Iqiyi, another Chinese online video giant, estimated there would be between 10 and 20 million VR users in China in the next year or so.
Youku has even bigger ambitions. It plans to win 30 million users soon. And, films aren't the only way to do it.