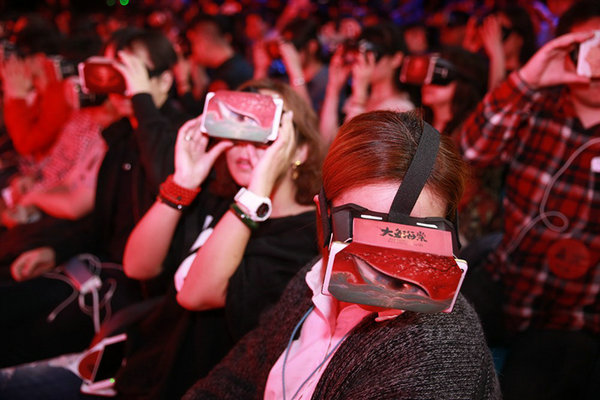 Audiences in Beijing wear headsets to watch a virtual reality trailer of the upcoming animated film Big Fish Begonia. [Photo provided to China Daily]
Wang Qian, a Beijing movie fan, finds herself in a fantasy world when she wears a headset to watch a trailer of the animation film Big Fish Begonia.
"I felt I was really walking in a different world. A number of big whales were swimming toward me ... It's incredibly breathtaking," she says.
Big Fish Begonia, a feature produced by entertainment giant Enlight Media, is among a few Chinese-language movies that use virtual reality technology to make promotional material.
Animation film Bobby the Hedgehog and the French high-wire artist Philippe Petit's biographical drama The Walk, which were released in January in the Chinese mainland, used VR technology for their promotional efforts.
Some veteran Chinese filmmakers are also showing interest in the emerging technology.
Two days after Golden Horse-winning director Gao Qunshu announced plans to direct China's first VR feature Bijokan, adapted from a namesake Japanese film, Zhang Yimou announced a collaboration with VR developer Danghong Qitian to launch a VR-based brand to provide offline interactive games on March 26.
But despite an increasing numbers of Chinese film industry people paying attention to the cutting-edge technology, VR is still a new concept in China.
Statistics show that the country-despite more than 1,000 offline stores offering suits for VR entertainment-doesn't have a single cinema for VR films.
So, will the new technology revolutionize the movie industry, which has benefited from so many technological revolutions in the past 120 years?
A forum held by entertainment researcher Entgroup, at the ongoing Beijing International Film Festival, offers some clues.
Mili Pictures vice-president Chen Qiyi says VR films, which can give viewers "an immersive experience", will change the way films are watched.
Viewers can step into a virtual world to take part in the journey with protagonists, Chen says.
"VR films can turn viewers into the films characters."
Li Jie, senior vice-president with Heyi Pictures, says VR films will see a boom in 2020, following the development of technologically lower-threshold sectors such as live-broadcast concerts, animation and documentaries.
"As of now, most global investors are putting up to 70 percent of their money into hardware development, a trend very similar to the smartphone business around 10 years ago," he says.
He adds the current technologies are not mature enough to provide a "comfortable" experience for VR movie viewing. But he says such movies could become a specific branch of the business that needs creators to tailor content to enable viewers to participate in the storyline.
Li also says headsets and related units available now are too bulky for viewers.
"If they could be as light as cellphones, then viewers could use them to live in a world which resembles the one depicted in The Matrix," he says.
However, some industry sources are concerned that the technology could infringe upon artistic elements in films.
"Feature movies, especially from art-house or independent directors, are a kind of art. Directors tell their personal stories through them and it would be weird to enter such a world," says Ding Liang, senior vice-president of Shenzhen Huaqiang Holdings Ltd.
He says such movies should not be made using VR technology.
Xu Fei, founder of the special-effects firm Illumina, says VR can help traditional filmmakers preview their scenes.
"Often directors have to travel to places with extreme weather conditions to check them ahead of filming, but they can save themselves the trouble if VR technology is mature enough to provide the virtual environment," he says.