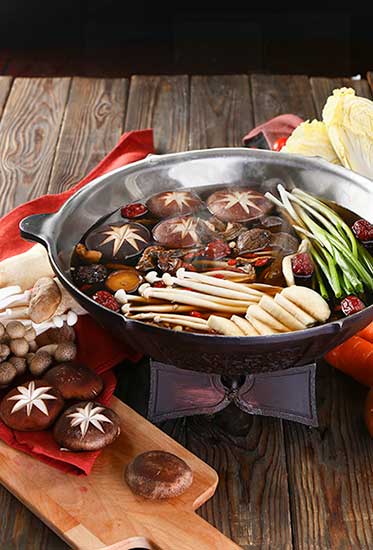 An unlikely amalgamation of dining and drinking traditions is about to hit China.[Photo provided to China Daily]
A sizzling hotpot in a tranquil tea lounge? A simmering pot of tea in a hotpot restaurant? After hearing about the concept of a hybrid teahouse and a hotpot restaurant, whichever way I looked at it the concept perplexed and intrigued me.
It is the idea of China's largest fastfood hotpot chain brand, Xiabu Xiabu, which last June had a total of more than 500 restaurants in 34 cities across China, and whose restaurants can be found in almost every mall and commercial area in Beijing.
After 18 years in the trade, Xiabu will soon debut a medium and high-end "hotpot plus tea brand" called CouCou, the first one opening next month in the Sanlitun area of the capital.
With questions still spinning in my head about how a marriage between a hotpot restaurant and a teahouse could possibly succeed, I met Chang Chen-wei, CouCou's chief executive, a Taiwanese restaurateur who has worked in food and beverages on the Chinese mainland for about 10 years.
In the understated way in which he talked about his project and aims he comes across more as a bookshop owner than a flamboyant veteran of the restaurant scene.
"There's a downturn in profits, which are pretty thin right now in today's food and beverages industry. We needed to think of how to create a different hotpot restaurant that also produces added value.
"It's surprising that I have been unable to find an authentic Taiwan style hand-shaken teas outlet in China, including in the myriad of so-called bubble-tea shops you see in every mall in Beijing. Hand-shaken teas are made to order, and the shaking process chills and dilutes a drink.
"So the idea with CouCou is to create a zen-like atmosphere in which diners can enjoy a bit of peace while having hotpot at meal hours or drinking bona fide Taiwan-style hand-shaken teas at off-meal hours."