A county where ducks tend to organic rice paddies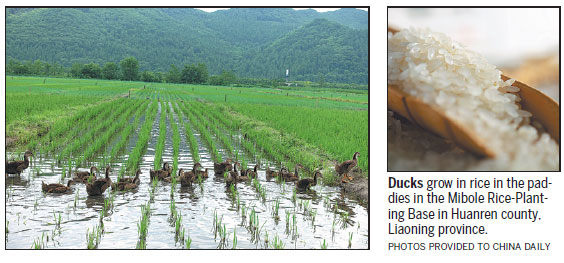 Every restaurant is remembered by its signature dish, while the rice is always forgotten.
But the quality of rice can influence the satisfaction of a meal.
People in the Huanren Manchu autonomous county in Northeast China's Liaoning province have long produced top-quality rice.
Qing Dynasty (1644-1911) emperor Tongzhi designated Huanren's paddies as guandi (official land), and the rice from there became a tribute.
It is said that if one family cooks the rice at home, the smell spreads to the entire village.
Now, an organic variety from Huanren has come to the domestic market.
And some of the rice was "raised" by ducks.
"We want to bring fresh rice to dinner tables all around the country," says Fu Rao, the manager of Mibole, the producer of the organic rice.
The 37-year-old used to work for an internet company in Beijing after he graduated from the Beijing Institute of Technology in 2003.
But he started to study rice cultivation in 2012 and built the Mibole Rice-Planting Base in Huanren in 2015 to grow quality organic rice.
Huanren is located in an area that's perfect for growing rice. It gets more than 2,500 hours of sunlight a year and has a 153-day frost-free season. Its black soil is rich and full of magnesium, which also gives flavor to the rice.
Raising ducks in paddies, however, is a challenge. But Fu took it on, since he read this is more environmentally friendly and organic.
Some 400 ducklings were placed in the fields on June 12, 10 days after the rice was transplanted.