Pasta event adds twist to Italian food week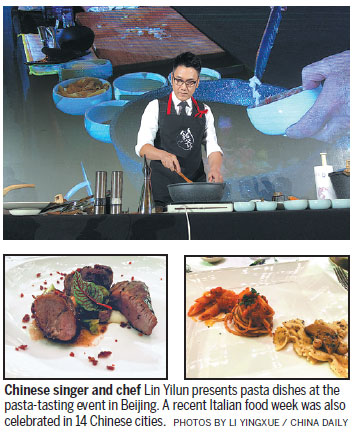 Click, click, click. As I walked into the grand ballroom of an upscale hotel in downtown Beijing, three women at the entrance frantically tapped the counters in their hands.
They were tallying up the numbers of guests joining the Guinness World Records challenge for the world's largest pasta-tasting event, which is in fact a charity gala dinner.
On the night of Nov 24, more than 300 guests joined the gala in the grand ballroom of the Renaissance Beijing Wangfujing Hotel as eager participants in the culinary challenge.
"You have to finish all three pastas in front of you," says Brittany Dunn, an adjudicator from the Guinness World Records. "The latest record was achieved last month in Argentina with 316 people. Let's see if we can break that record tonight."
Three pastas were served on the same plate in front of me, and I didn't have time to think about the challenge before I finished them within a couple of minutes - they were flavorful and delicious.
The first one I tried was farfalle pasta with a mixed mushroom ragout and truffles, representing the flavors of northern Italy with its abundance of mushrooms.
The second dish was penne pasta with a guanciale of amatrice (pork cheek), pecorino Romano and tomato. The third was spaghetti with mixed seafood sauce. They represented recipes from central and southern Italy respectively, explains Massimiliano Esposito, president of the Federation Italian Chefs China Delegation.
"Pasta is the main ingredient for Chinese and Italian people - pasta and noodles - that's why the similarity is very strong between Italy and China," says Esposito.