Calabash carving shows Xi'an culture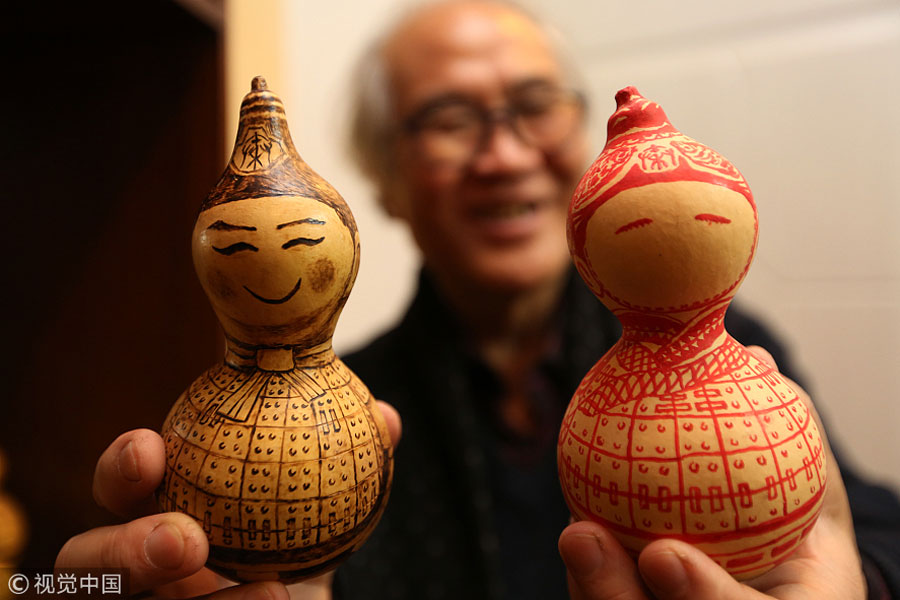 Two Terracotta Warriors carved by Liang Ping'an in Xi'an, Northwest China's Shaanxi province, Dec 2, 2017. [Photo/VCG]
Xi'an, capital city of Northwest China's Shaanxi province, has served as the ancient capital of several dynasties in Chinese history, for instance Western Zhou Dynasty (c.11th century-771 BC), Qin Dynasty (221-206 BC), Western Han Dynasty (206 BC-AD 24), and Tang Dynasty (618-907).
Liang Ping'an, a calabash carving artist living in Xi'an, turns this ordinary vegetable into handicrafts demonstrating the history and culture of this time-honored city.
From Great Wild Goose Pagoda to Terracotta Warriors, Liang keeps exploring new themes for his creation among cultural icons of Xi'an.
"Carving on calabashes is more than a personal hobby," he said. "I hope people will return to traditional culture and find more inspirations in our city."