Stone carving reproduces 'China's Mona Lisa'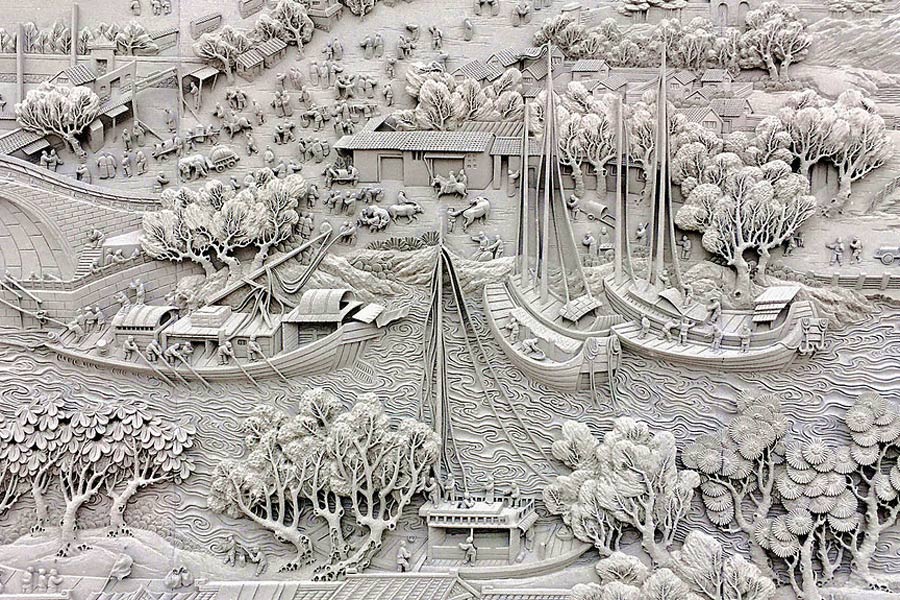 A stone carving of the masterpiece Along the River During the Qingming Festival is a highlight of the 2017 China(Huian) International Engraving Expo in Huian county, Quanzhou, East China's Fujian province, on Nov 9th, 2017. [Photo/IC]
The 2017 China (Huian) International Engraving Expo opens today in Huian county, Quanzhou, East China's Fujian province, which is famous for its stone statuary industry.
A stone carving of the masterpiece Along the River During the Qingming Festival is a highlight of the expo. The stone carving, with a length of 11.7 meters and a width of 2.8 meters, is made from one whole stone. Completed by two masters of stone carving, it represents a high level of the Huian engraving school, as leaves and lines on twisted ropes are clearly visible.
The original Along the River During the Qingming Festival is a painting created by the Song Dynasty's artist Zhang Zeduan. It captures the daily life of people and the landscape of Bianjing, the capital of the Northern Song period, located at today's Kaifeng in Central China's Henan province. The painting is considered the most renowned work among all Chinese paintings, sometimes called "China's Mona Lisa".