Fledgling eateries offer up perfect Peking duck
Yaban is a term for a team of chefs tasked with preparing roast duck dishes in a restaurant's kitchen, overseeing the entire process from preparing and preserving the duck to roasting, slicing and finally presenting the dish - these are the people who know roast duck best.
Xu Fulin was a member of a yaban for decades, working his way up from an apprentice to become the executive chef of the Wangfujing branch of Quanjude, the iconic restaurant chain renowned for its Peking roast duck.
In November 2014, Xu and his team served up their own creative take on the classic Peking duck dish, much to the delight of the 700 guests attending a state banquet held for the Asia-Pacific Economic Cooperation summit in Beijing.
Naming the dish "Peony in a Flourishing Age", Xu plated the sliced roast duck in the shape of a peony flower and used loofah sprouts to form the leaves, before placing the ensemble on a china plate - making it look just like a peony in bloom.
Xu's design for the peony dish saw him arrange 16 petals over four layers, and place seven, then five, then three slices of duck from outside to inside, before topping it off with a single slice to make the "flower" more realistic.
This dish is now available in a growing chain of Beijing restaurants called Yaban, where Xu directs his team of apprentices to offer up his artistic creation to ordinary diners around the capital.
Founded in January 2017, Yaban launched its fourth branch in the Dongsi area of the city at the end of January.
Wei Li, one of Xu's apprentices, co-founded Yaban with Zhang Chengfeng. Both native Beijingers, the duo aim to offer old homestyle Beijing dishes together with traditional Peking duck.
"Since his retirement from Quanjude, master Xu has been guiding us on how to make roast duck, and we have been building up our own yaban to focus on perfecting the dish," says Wei.
According to Wei, chefs at Yaban prefer to use 45-day-old ducks weighing around 2 kilograms for roasting, and all the ducks are reared in the suburbs of the capital.
When the ducks arrive at the restaurant, they are set out to hang for a minimum of eight hours in a temperature-controlled room before being selected - only ducks with sufficient fat and unblemished skin are chosen for roasting.
The ducks are then brushed with a special sauce that includes honey to help make their skin shiny and crisp, before they are placed in the oven to roast for an hour.
"Each roast duck is traditionally cut into 108 slices, a process that involves holding the duck by the neck in one hand and slicing it from throat to tail," Wei says.
To become a roast duck chef, perfecting the art of slicing the duck is a major milestone since the process usually takes a chef two to three years to master. Other skills, like preserving the duck and preparing the skin all have to be mastered before learning how to roast.
"All the chefs at Yaban have been trained under Xu's guidance, so our Peking duck will always be consistently flavorful and sliced to perfection," Wei says.
Besides his signature peony dish, Xu also serves up his version of an all-duck feast at Yaban, a creation that took him years to research.
As well as roast duck, the feast includes a dozen dishes made from every imaginable part of the duck - including its heart, feet, tail, head, breast and liver - which all require different cooking methods.
Flambeed duck heart is a traditional dish that has been given a twist. In Yaban's version, the duck heart is set alight in front of the guests by pouring baijiu (white spirit) on the plate as it is served. "It's not just for show, since the flaming baijiu helps to make the duck heart more tender," Wei explains.
Duck meat pie is a new creation which mixes duck meat, lamb and Chinese chives to create the filling. Fried rice with duck meat is another new dish.
In everything, from the decor of the dining space down to the range of homemade dishes on offer, Wei aims to evoke childhood memories of old hutong life in his restaurants. He has even set up a stage for diners to enjoy folk performances.
From tangyoubing (fried dough with brown sugar) to lvdagun (a kind of bean flour roll) and fried meat balls, Wei hopes to keep the authentic flavors of Beijing alive in the memories of his customers.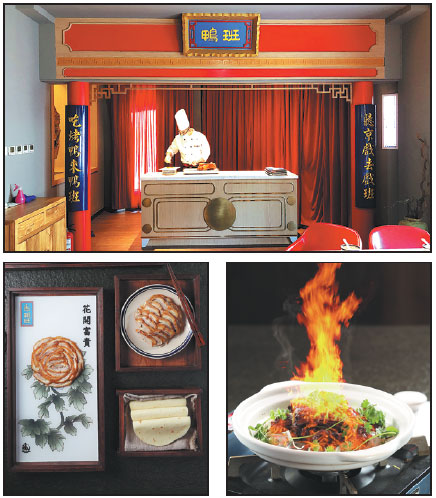 Clockwise from top: Yaban replicates traditional Peking roast duck and an all-duck feast for foodies; flambeed duck heart, a traditional duck dish with a modern twist; "Peony in a Flourishing Age", a state banquet duck dish, is now available for ordinary diners. Photos provided to China Daily
(China Daily 02/15/2019 page16)