Museum offers chance to enjoy tasty duck recipe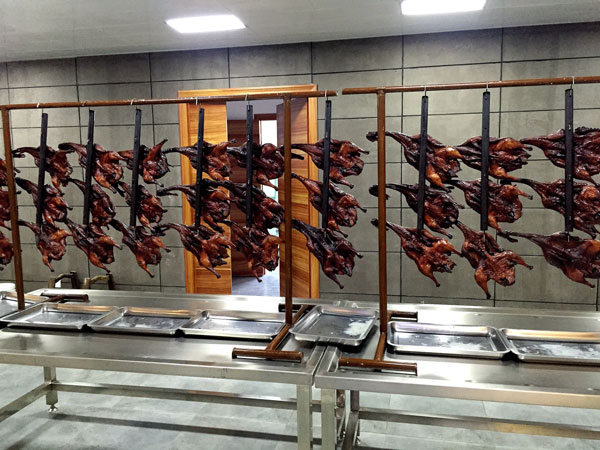 The Sanzhenzhai duck museum in Wuzhen draws visitors who wish to learn about its century-old duck recipe and sample the dish. [Photo by Yang Feiyue/China Daily]
A museum has managed to draw in lots of visitors to learn about a century-old duck recipe and sample the dish.
The museum, located next to the Wuzhen scenic spot, covers an area of 5,000 square meters, and features white wall and black tiles, typical of the residential style in places south of the Yangtze River.
The Sanzhenzhai duck museum was built for the public to understand the brand's culture and spice up visitor experience in the tourism hot spot Wuzhen.
"We want to ride on the wave of Wuzhen's increasingly hot tourism and improve our brand's fame and sales," says Lu Fengxue, the sales manager of Sanzhenzhai.
The brand was born in Wuzhen in 1848 and has been popular for the distinctive taste of its duck products.
Now, Sanzhenzhai has approximately 100 outlets across the country.
The museum has become a hit since it opened at the end of October.
Approximately 70 buses drop by the museum on a daily basis, which translates to roughly 7,000 tourists.
Roughly 6,000-7,000 ducks are sold per day.
Tourists typically opt for three ducks at 100 yuan ($15.15), according to Lu.
"Our products are especially popular with the middle-aged and seniors," says Lu.