Wuzhen villages offer authentic rural experience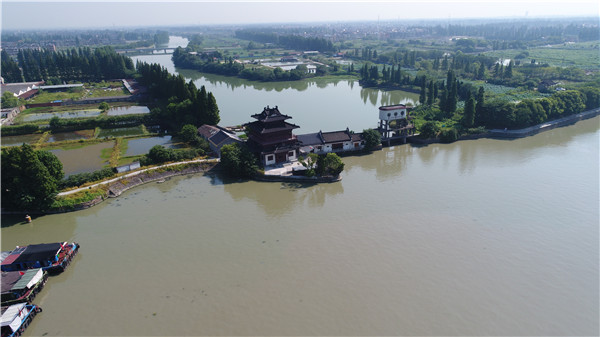 An aerial view of the villages. [Photo provided to China Daily]
Near the ancient water town of Wuzhen, the scenic villages of Maming and Haihua provide the perfect destinations for travelers seeking a taste of authentic rural life. Xing Yi reports.
While most people in Tongxiang city in East China's Zhejiang province are still nestled beneath the covers at 3 am, Tu Yuanqing and his father Tu Bingfa are already up on their feet, arranging cups, boiling water and preparing tea leaves.
The doors to their rustic, cozy teahouse in Maming village open just half an hour later. By 4 am, the space is a hive of activity as elderly residents, most of them aged 60 and above, chat animatedly with one another while sipping cups of tea and smoking cigarettes. Some villagers can also be found playing mahjong in a small room illuminated by a solitary light bulb.
This tea party for the elderly ends at 8 am, the time the villagers begin their day in the fields. But there is no official closing time for the teahouse - the Tu family lives in the same building.
Located at a 30-minute drive from the ancient water town of Wuzhen, Maming village is the polar opposite of the famed tourist destination. There are hardly any crowds here. The old houses are not as well maintained. There are no bright colorful lights that flank the walkways.
Time seems to stand still in the village, making it the perfect day-trip destination for travelers who want an authentic experience of rural life.
Here, tea is not just a beverage, but a way of life. The street that the Tu teahouse is on may only be 50 meters long, but there are three other similar establishments. Not that anyone really cares about the competition. After all, there is little profit to be made from such a business. A pot of black tea costs only 1 yuan (15 cents). They sell between 50 and 60 pots every morning. What he earns in one morning is not even enough to buy him a ticket into Wuzhen.