Wuzhen villages offer authentic rural experience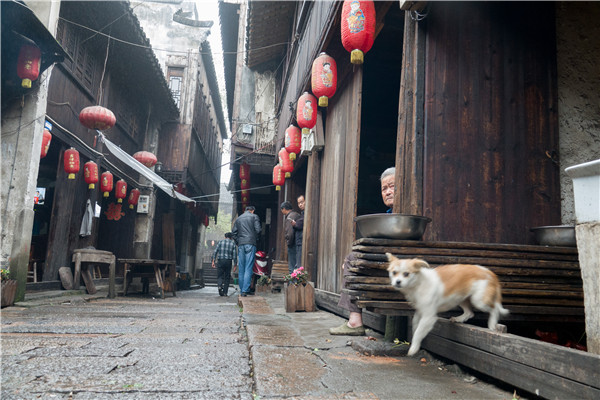 Tu Yuanqing runs his family teahouse in Maming village, a 30-minute drive from the ancient water town of Wuzhen. [Photo by Gao Erqiang/China Daily]
The temple's origins can be traced back to the Tang Dynasty (618-907) when it was constructed in memory of a general named Pei Qu who protected the village against a rebel army. This heroic feat has since elevated him to a godlike status. Unto this day, villagers pray not to Buddha or other deities but to Pei. A worshipping ceremony is held every year during the 15th day of the first month in the lunar calendar. Activities include a temple fair and performances of traditional opera.
Another rural area worth visiting is Haihua village, which features an idyllic park and a number of canals and rivers that are popular fishing spots with the locals.
The village is well-known as the former residence of Jin Zijiu, a doctor who dedicated his life to helping others.
Born into a family of doctors in Hangzhou in 1870, Jin learned medicine from his father before getting married to the daughter of a rich businessman from Haihua village. He moved to the village following the wedding and earned himself a sterling reputation for his medical skills and compassion. Jin died in 1921. A museum documenting his life story is one of the attractions of the village.
Visitors to Haihua will also find a small museum that documents the lives of the "educated youth" - young people from cities who were sent to the countryside to work alongside the farmers during the "cultural revolution" (1966-76).