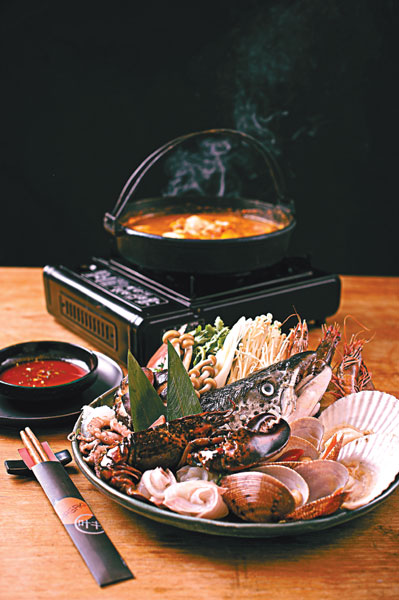 Seafood Sukiyaki at Hagaki ... enough to feed up to three or four people. [Photo provided to China Daily]
Sukiyaki, Japan's version of hotpot, is a seasonal offer at one of Beijing's coziest and most authentic outposts of Japanese cuisine.
Being the only diners in a restaurant with attentive staff made us nervous and curious. We began to wonder: Is this the place that boasts having amazing Japanese cuisine for common people's wallets?
It turned out we were too fretful. In less than an hour, the restaurant was overflowing with customers. We had arrived too early.
Named after the Japanese word for postcards, the restaurant Hagaki has a cozy atmosphere with wooden walls painted with Japanese art and postmarks, just as intimate as postcards from close friends.
One of the highlights of the menu here is the seafood sukiyaki.
Sukiyaki is a popular Japanese style hotpot dish. The word suki means to "slice thinly", while yaki means to grill or saute in Japanese. Originally, sukiyaki's main ingredient was thinly sliced beef, which is to be simmered in soy sauce-based soup in a hot skillet.