Quanzhou charms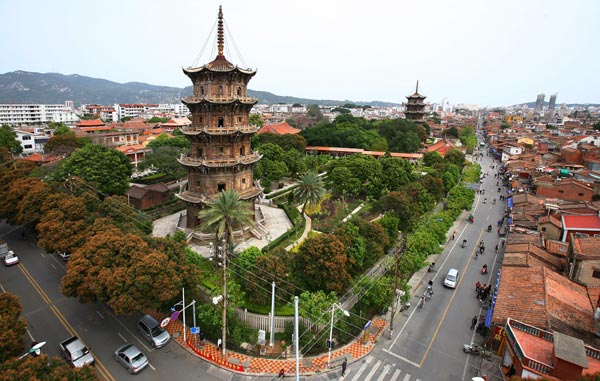 The twin pagodas, built in the 13th century, are two of the cultural gems at the heart of Quanzhou city. Chen Qituo/For China Daily
Get away from the crowds in Xiamen and seek out the quieter pleasures in Quanzhou, a city with a rich maritime history that was once a melting pot of the world's religions. Sun Li tours Fujian province's lesser-known tourist attraction.
Many travelers visiting East China's Fujian province head straight for Xiamen, a seaside city widely regarded as the area's biggest tourist draw. But nearby Quanzhou, packed with culture and history, is just as worthy of your time.
Famous as the start of the Maritime Silk Road and the largest port in Asia during the Song (960-1279) and Yuan (1271-1368) dynasties, Quanzhou was once visited by legendary travelers, such as Marco Polo and Moroccan explorer Ibn Battuta, who compared Quanzhou to the Egyptian port of Alexandria.
The Quanzhou Maritime Museum is an ideal place to learn about the harbor city's rich history.
Designed to resemble a sailing ship, the museum, one of very few maritime-themed museums in the country, offers free entry and a free tour guide.
The museum boasts a number of replicas of ancient boats, ranging from brigs and schooners to battleships from different dynasties.
Among them is a medium-sized boat featuring a host of cabins, built in the Song Dynasty by local Quanzhou shipbuilders. It is said to be one of the most popular vessels used for trade at that time.
Documents reveal that these boats, made in Quanzhou, carried Chinese silk, jade and porcelain to eastern Africa and the Mediterranean, and they returned with foreigners intent on doing business or preaching religion in China.