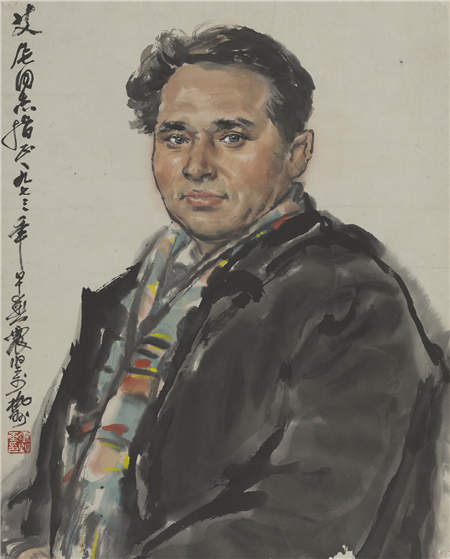 A painting by Li Zhenjian [Photo provided to China Daily]
The National Art Museum of China is holding a retrospective exhibition of Li Zhenjian (1922-92), a figure painter in the field of traditional Chinese painting from East China's Zhejiang province.
On show are some 180 paintings and sketches of figures and landscapes that stand as testaments to Li's devotion to modernizing traditional ink art through several decades.
Born in a mountainous village in Zhejiang, Li's early interest in painting was encouraged by his parents who sent him to local painters to learn basic skills of Chinese painting.
Li entered the national school of art in Hangzhou, now the China Academy of Art, in 1946 to receive professional training under the guidance of ink masters such as Huang Binhong and Pan Tianshou.
He started to renovate the traditions of ink figure painting in the 1950s. He adopted a realistic approach from Western art, by which he was able to create dozens of lively figures from different social backgrounds.
His ink nude paintings are especially acclaimed. Nude had not been a division of Chinese traditional painting before he explored the motif in the 1980s. His mastery of sculpting body curves with ink brushes resulted in many pieces that reveal the beauty of human body.
The paintings on show are from the collection of the Zhejiang Art Museum, to which Li's family donated some 4,000 works and documents, as well as the Zhejiang Provincial Museum.
The exhibition runs until noon on April 26.