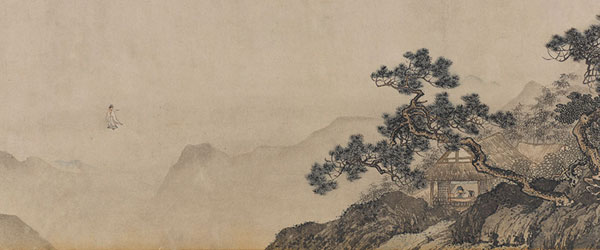 Detail, The Thatched Hut of Dreaming of an Immortal, which is among a collection of art works from the Wu School of the Ming dynasty displayed at the Smithsonian's Arthur M Sackler Gallery. [Photo/cri.cn]
A rare collection of works of art from the Wu School of the Ming dynasty has gone on display in Washington DC.
The exhibition at the Smithsonian's Arthur M Sackler Gallery celebrates the work of these artists from six centuries ago, who merged calligraphy, poetry and painting.
The melodies of a traditional Chinese Harp set the stage for a one of a kind exhibit.
45 scrolls by 30 Wu School artists have been put on show at the Sackler Gallery in the US capital.
These painters were active during the second half of the 15th century, when the Ming Dynasty reigned.
Stephen Alee, the curator of the exhibit, says that there were different types of artists, and their work varied depending on who would receive the piece.
"There are professional artists, and there are literati artists. The distinction is really that professional artists tend to create art for the market or on commission… it's not that the literati artists did not do so, but generally speaking they created most things for friends, relatives, people that they knew... so there was often a personal connection between the artist and the recipient of the art. "
The unique forms of calligraphy they used told stories or poems from a personal perspective.
Six centuries ago, the Wu School was seen as a vehicle for self-expression that enabled artists to merge Calligraphy, poetry and painting.
During the Ming Dynasty, these three forms of art were regarded as the ultimate expression of Chinese culture.
Yuan Liu, who works as a visitor's guide at the museum, says the exhibit is very impressive.
"Freer and Sackler certainly has the largest collection of Ming and Ching paintings and calligraphy outside China...I call it the biggest artistic feast in the Washington DC area…"
Throughout these rooms the work of artists and scholars are displayed as visitors are invited to relive the stories from centuries ago.