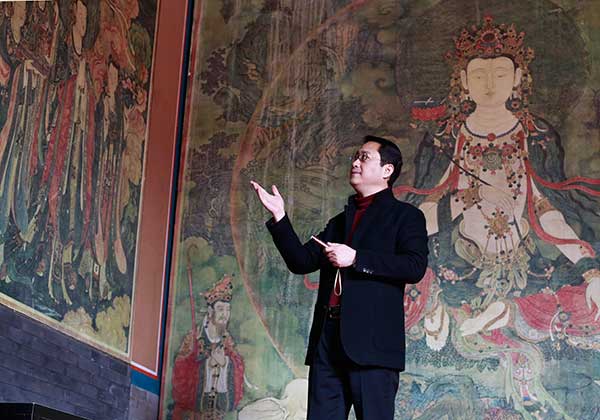 Tao Jun, vice-director of the Fahai Cultural Relics Protection Bureau, carefully examines these mural paintings.[Photo by Feng Yongbin/China Daily]
As imposing as the Fahai frescoes are, Lu Shaojie, a veteran guide at the Fahai Temple, in whose main hall they are housed, believes that the saying "The devil is in the detail" could not be more apt in this hall of saints.
"Initially people may be overwhelmed by all the splendor, but ultimately it was the improbable care given to the tiniest detail that gives the murals their emotional weight and imbues a viewer, Buddhist or not, with a sense of awe."
One particularly startling detail involves the blood vessels on the ear of a fox, painted on the hall's northern wall. Under a magnifying glass they appear to be fork-like crimson lines, so fine that they seem to be just tapering away. But there is a delicate translucence to the wall of the vessel, as well as a palpability to the flowing of blood underneath.
The fox is half-hidden behind Sarasvati, a god in charge of wisdom, fortune and music who appears here as a woman. The influence the goddess has exerted on those around her can be clearly felt through the enchanted look of the fox, whose eyes resemble that of a fledgling bird.
Even the more ferocious lion and leopard - the lion on the left of the goddess, the leopard on her right are tamed. As the leopard looks expectantly toward the goddess, spellbound, the lion gazes back in a trance.
Lu, pointing to a six-tusked elephant that appears near Samantabhadra, the god of ethics, as his mount, says: "Each character has his or her unique personality, sometimes evidenced by the things around it, often animals. Even the animals themselves are inspired creatures capable of strong human emotions."