Garbage mounts as O2O food delivery surges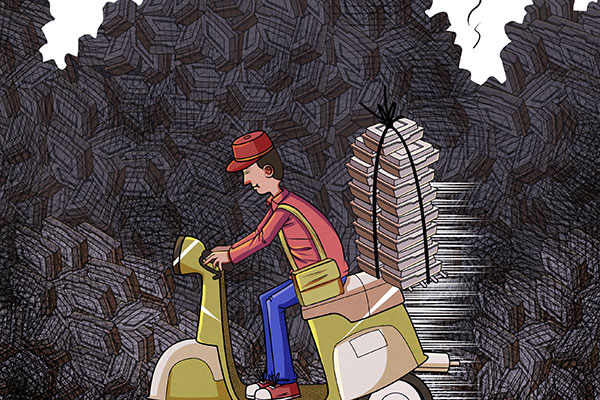 It is estimated that within 15 days, the plastic bags used for food delivery packaging could cover the West Lake in Hangzhou, East China's Zhejiang province. [Photo/VCG]
The explosive growth in online-to-offline (O2O) food delivery services in China is worsening the environment due to a lack of garbage recycling and weak public awareness.
From university students to white collar workers, a simple click of a mouse can bring fresh-cooked food delivered at an appointed time.
Wang Yan, who works for an Internet company, said it bothers her to carry food from her home to the office, yet it also takes too much time to dine in a restaurant for lunch. So, like many other office workers, she prefers O2O food delivery.
It seems to be a win for everyone. Restaurants can access more customers with no need for additional seating space, for example. At an eatery selling liangpi cold noodles in Beijing's Tiantongyuan neighborhood, the owner Zhao said his business relies mainly on O2O orders.
But also growing at an enormous scale is food packaging, chopsticks and plastic bags, all side products of offline-to-online services.
The cost for food packaging, including a plastic box, a pair of chopsticks and a plastic bag, is about one yuan (15 cents) at Zhao's noodle store.
Yang Lan, a 50-year-old cleaner, said the dustbins are increasingly filled with more garbage as O2O food becomes more popular.
A deliveryman for leading O2O platform Meituan said some costumers require chopsticks even for food sent to their doorstep.
There's no available data for garbage produced by O2O operations, but the amount is significant. Major players Meituan, Eleme and Baidu handle seven million orders on a typical business day. A rough calculation of the plastic bags used equals an area of 420,000 square meters.
Even more worrying is the shortage of recycling for plastic refuse. A waste recycler in Beijing's Fangzhuang area said it pays three yuan for one kilogram of PP-type plastic containers, but no one wants the polystyrene packaging.
Zhai Qiuping, an analyst in the plastics industry, said white polystyrene foam food containers are mainly used by workers on construction sites due to their lower cost, but there is little value in recycling.
But among some consumers awareness is growing, as calls go out for customers to provide their own eating utensils and for outlets to use recyclable food boxes and chopsticks.
Zhai said China does not yet have a classification system for solid garbage and recycling, so it will be a long journey to turn the waste into valuable items.
In its 13th Five Year Plan (2016-2020), the Chinese government made clear that it wants to restrict disposable one-use items, improve recycling and boost the waste classification system.