Plastic to poolside for environmentally conscious fashion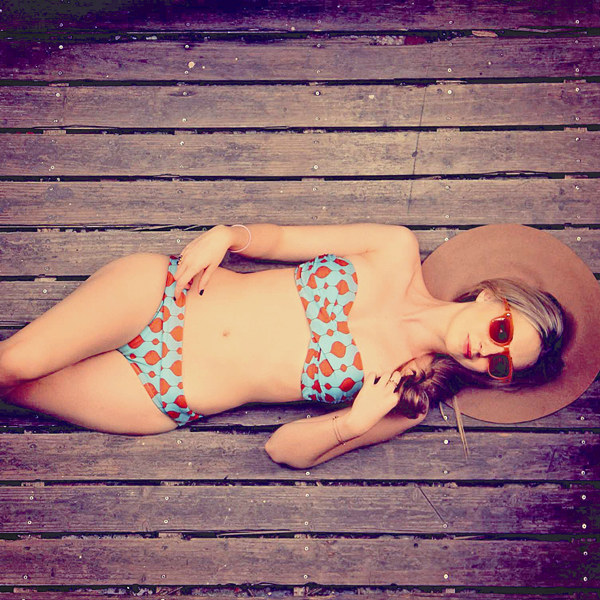 FINCH is run by designers who want to promote more environmentally friendly fashion. Photo provided to China Daily
Recycled materials allow fashionistas to stay on-trend while being mindful of the environment. Tiffany Tan chats with Miss E
art
h China 2013 about a
Shanghai
-based fashion brand that is making bikinis from recycled plastic bottles.
When Xiang Yang attends the international Miss Earth pageant in December, China's 2013 winner plans to give some of her fellow beauty queens bikinis. She might bring blue ones with kaleidoscope patterns, or orange ones with geometric prints. Xiang says she'll decide after checking out the latest designs from the fashion brand FINCH.
A two-piece bathing suit might seem like an unremarkable gift between beauty queens-until you check out the product tags. The swimwear is made up of 13 percent spandex and 87 percent rPET, or recycled polyester, which comes from plastic bottles that once might have held beverages, household cleaners or cooking oil.
Xiang discovered the bathing suits during last November's Miss Earth China pageant, where she and the other finalists wore FINCH pieces in the swimsuit round. When the Jiangsu native took part in the international competition a month later, she brought along a FINCH bikini, whose material the other contestants apparently found "creative".
The part-time model now sees these fashion pieces as a way to promote her environmental protection advocacy while also helping forge friendships.
"I often bring traditional Chinese presents to international events," Xiang, 25, says by phone from Western Europe, where she traveled for an endorsement project. "This brand might not be Chinese, but it's really unique."
FINCH was established in Shanghai in 2010 by two expat designers, who have worked for major international labels and saw how much waste the fashion industry generates. The women wanted to create a brand that would use organic and recycled materials, as well as produce apparel that would hold up well against washing, travel and fashion trends.
They decided to apply these sustainable concepts to making year-round signature pieces, rather than releasing a clothing collection every season.
"In addition to overconsumption on cheap fast fashion, one of the most wasteful aspects of the fashion industry is this treadmill of always having to serve up something trendy and season specific," says Heather Kaye, the brand's co-founder from the United States.
Besides swimwear, FINCH also offers wrap dresses and rain capes that partially or fully use recycled polyester. The recycled-plastic fibers that go into its fabrics are manufactured in Suzhou, Jiangsu province, by a US company-and are also used in some Ford car seat covers, Patagonia garments and a jacket by The North Face. FINCH's apparel are all made in China.
The brand's most popular product is its bikini model F1016, which has removable halter neck ties, removable bust pads and a waistband that can be adjusted for more tummy coverage. One customer dubbed it the "miracle bikini", Kaye says, because it provided enough cover and support while still remaining sexy.