Feathery extravaganza wraps up Paris fashion shows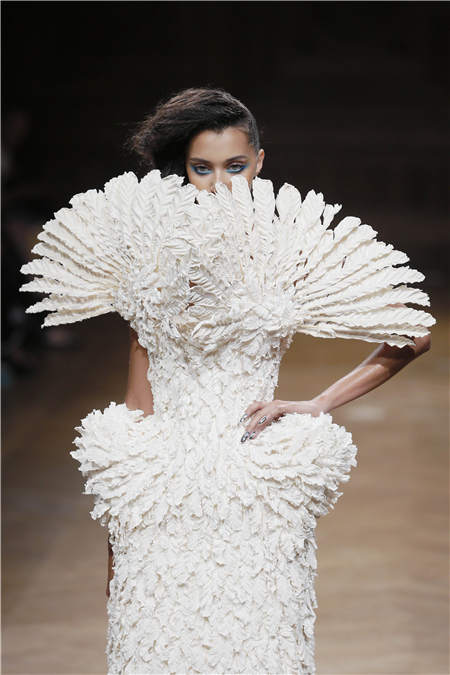 A model presents a creation by Serkan Cura during the 2014/2015 haute couture fall/winter collection fashion show in Paris. Patrick Kovarik/AFP
Paris Fashion Week wrapped up on July 10 with a feathery spectacular by young Belgian couturier Serkan Cura, notable for the number of black, mixed race and Asian models on the catwalk. 
Less than a year after models Naomi Campbell and Iman launched a blistering attack on the fashion industry for its lack of diversity, Cura said he took a deliberate decision to use all "different kinds of girls" for his collection.
Of the 17 models in Cura's show, nine were black or mixed race, three were Asian and five were white, including one redhead.
"It was very important to me to have a mix," Cura said backstage after the show.
For autumn/winter 2014-2015, Cura sent out a string of dramatic looks using goose, heron, ostrich and marabou feathers teamed with heavy Egyptian-inspired jewelry.
One outfit alone was loaded with 15 kilograms of feathers.
"With feathers you can do everything when you have the imagination," he added pointing to a slinky, green and blue trouser suit that looked as if it was made from something metallic.
Elsewhere on the same day, Tamara Ralph and Michael Russo took inspiration from Italian interior photographer Massimo Listri.
The Australian duo went for voluminous, floor-sweeping gowns in silk and duchess satin and shorter dresses with a 1950s feel.