Paris fashion takes flight with Dior's look back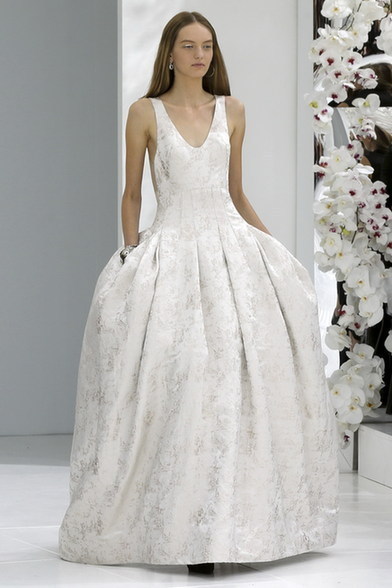 A model presents a creation by Raf Simons, part of his haute couture fall/winter 2014-2015 fashion collection for Christian Dior.[Photo by Philippe Wojazer/Reuters]
Christian Dior designer Raf Simonson Monday took Paris fashion on a journey through history with a haute-couture collection in which Edwardian coats and bodices met flapper dresses and space suits.
A-listers Sean Penn, girlfriend Charlize Theron and Marion Cotillard were among those on the front row of the show, held in Paris's Rodin Museum.
Always a highlight of Paris fashion, guests arriving for the show were invited to walk along a pale gray carpet laid down the center of the museum's rose garden lined by manicured lawns.
At the end, a white, circular building looked a bit like a space-craft ready for takeoff. A small door led inside to a mirror-lined room with walls covered floor-to-ceiling in white flowers.
For Simons' fifth season since taking over in the wake of flamboyant John Galliano's sacking, the Belgian designer says he went in search of modernity: looking back in order to look forward.
"I was interested in the process of finding something extremely modern through something very historical," he says.
"What I was attracted to was... how the foundations of one era are based on another, how the future is based on the past."
Along with Dior's own archive of designs, the collection was also influenced by 18th-century "court coats", big skirts and 1920s' loose-fitting flapper dresses.