'Fairy sister' sets sights on reviving the hanfu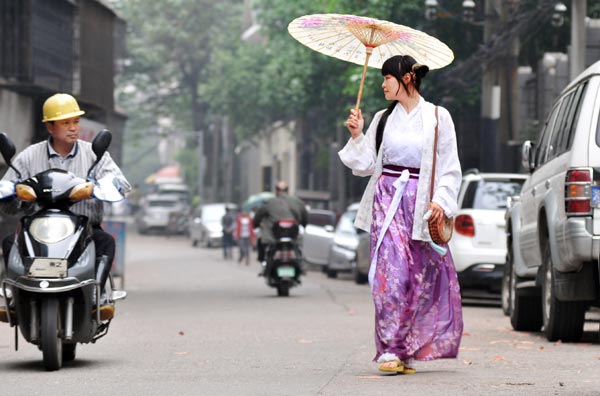 Long Jiayan walks on the streets of Changsha wearing the hanfu. Li Jian / For China Daily
About two years ago, Long Jiayan accidentally watched a video about hanfu, or Han clothing, on a micro blog in China. She didn't expect that it would inspire her life's passion to promote Han clothing and its history.
Hanfu is the traditional dress of the ethnic Han people. However, few Han people wear it daily in present-day China. It can be seen occasionally in festivals, coming-of-age and religious ceremonies conducted by Taoist, Confucian and Buddhist monks.
It is often seen, however, in Chinese television serials and movies.
"I absolutely fell in love with hanfu, including all of its connotations and cultural implications after watching the video," says the 24-year-old in Changsha, Hunan province.
Long was so crazy about hanfu that she, who never learned sewing before, started to make an outfit only four days after she watched the video.
"I searched for information about how to make hanfu and felt after my reading that it was not that difficult, so I just set to work on it," she recalls.
Long's baby was just 7 months old, so she could only make the clothes when the baby slept or when it was being cared by its grandmother.
But Long's idea didn't get any support from her family. "My mother-in-law said I had a 'mental disorder' and it was unnecessary and boring to do that," she says.
Long finished her first hanfu in only three days, even though she didn't have a sewing machine, and she wore it immediately.
"Honestly, I don't know how I managed to keep that mental state then. I was fully at ease, though I had expected that people would look at me strangely," Long says.
Now Long wears hanfu at least half the time. Sometimes she also chooses to wear some modern items to go with her hanfu.
"When I wear hanfu on the street, some people even ask if I'm doing cosplay or wearing a costume rented from a photographic studio," she says.
"But I was quite happy to hear that some children called me fairy sister," she says.