'Fairy sister' sets sights on reviving the hanfu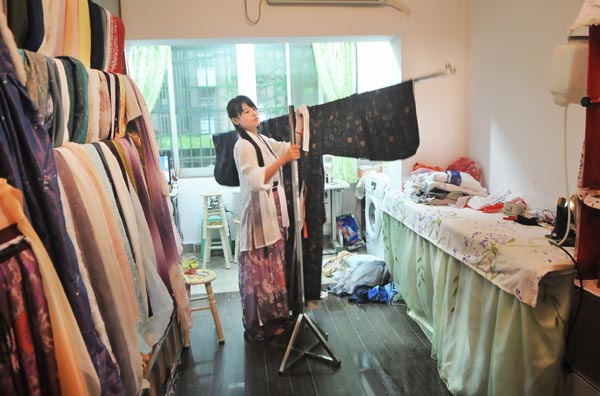 Long Jiayan works on hanfu. Li Jian / For China Daily
One month later after she made the first hanfu, she bought a sewing machine for 800 yuan ($129).
"I'm the type of person who takes action. I spent all of my pocket money on the sewing machine and the cloth," Long says.
Now Long has her workshop and has made several hundred hanfu, but learning how to stitch was not easy.
"What I can do is to turn to the pictures about hanfu and search for instructions some people post on the Internet. I bought some cheap cloth and tried to make hanfu with that," she says.
Long has so far concentrated on the clothing's cut and form. "I plan to do myself print, dye and embroider on the clothes that I make. But that requires more effort as traditionally pictures are used on hanfu and some pictures cannot be used on some types of fabric," she says.
In June last year, Long launched her online store. Many people have come to her workshop, tried her hanfu and taken pictures, but sales are low.
Long says she has been in debt of more than 10,000 yuan. Her suits mostly cost 300-400 yuan. "But many people still think they are expensive," Long says.
Sometimes, she says, she has to spend more than one month browsing hundreds of webpages and looking into thousands of cloth types to find what she wants.
Long isn't alone in her dream to rejuvenate traditional Chinese culture through hanfu. At a festival where most people wore hanfu, she met Chen Jiaxin, who has launched various traditional ceremonies.
The two are now cooperating.
"Chen's activities need a lot of hanfu. I offer them the costumes they need so that they can make use of them to promote traditional culture," Long says.